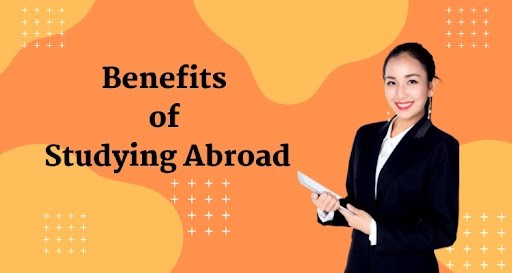 Have you ever thought of studying abroad but then got bombarded with loads of doubts, like whether studying abroad is a wise decision or not? Just so you know, you're not alone, and we can assist you with this. Over here, we will give some views on the benefits of studying abroad.
Is pursuing an undergraduate abroad one among your top wish list? Do you want to know what it's like to study in another country? If the answer is yes, then you can go ahead and give it a read. The hardest part of studying abroad will always be choosing the right university, application, and visa. Once you have completed that process, you will be able to see your dream come true once you arrive in the country where you intend to study. Let's cut to the chase and find out the advantages of studying abroad.
Quality of Abroad Education
The first and foremost benefit of studying abroad is the curriculum available over there. There is a wide range of undergraduate and postgraduate subjects available abroad, and you can try out different courses with no constraints. If you wish to study abroad, you can select a specialised course rather than a general one and gain in-depth knowledge about the subject. The teaching process at the universities abroad is very distinct wherein the individuals are given more attention and are allowed to pursue their interests in their chosen field of study.
Throughout your course, you will access a wide range of internships and mentorship programmes that will provide field experience. Furthermore, the resources provided by the university will assist you in making your learning experience more vibrant and authentic. Not only do you pursue academics, but you may also explore a different side of yourself by joining clubs and societies of your choice offered by the universities.
Regarding education abroad, you should have no doubts because it only provides the finest, which will undoubtedly allow you to flourish in your field of study and build you into a professional.
Personal Growth
Studying abroad can allow you to live your life to the fullest. While there are benefits of studying abroad, a few responsibilities come your way. As you'll be alone and far away from your parents, you must figure out things on your own, such as preparing food, managing daily tasks, and, most importantly, taking care of yourself, which may seem scary at first, but it will help you become more self-reliant and disciplined. You will also have the opportunity to learn more about yourself on this adventure, which will benefit you in the future.
Have you ever wondered how most students who study abroad obtain great employment? One of the most significant advantages of studying abroad is that it boosts the worth of your resume, and the values and abilities you gain from the experience of studying alone in a new country make you a desirable candidate for employers. The curriculum in the top study destinations will provide you with hands-on experience. It prepares you well for the working environment anywhere across the globe.
All the experiences you obtain while studying abroad, not only academically but also in terms of how you ease into the culture and language of that country, strengthen you and prepare you to be more confident in life and your career. Few skills that will enhance while you are studying abroad are foreign language fluency, cross-cultural communication, teamwork, problem-solving skills, and networking and communication skills.
Exploring New Places
Along with the obvious academic and career advantages, there are many more advantages of studying abroad. Once you start making new friendships, you will get to explore the country and live a new life, eventually making your study abroad experience more memorable. Many students go to new countries for the first time, which is only possible because they are studying abroad. You get to go to different places you've always wanted to see, the renowned sites you've only seen in movies, and capture great pictures to share on Instagram.
Networking

Every penny you spend on studying is worth it since you will have the opportunity to meet individuals from many countries, providing you with a diverse experience and a high-quality education. You will get the opportunity to become more open-minded because each person you meet might have different perspectives, which will enrich your life and career, and the memories made with them will last a lifetime.
If you're still thinking about whether it'll be worthwhile to spend loads of bucks studying abroad, Yes, absolutely!
Now that you know what are the benefits of studying abroad. We have listed a few top destinations for you!
Top Study Abroad Destinations
Australia attracts students from all over the world because of its diverse course offerings and experienced lecturers. One of the benefits of studying in Australia is that Australian universities offer new teaching-learning experiences and assist students in becoming career-ready through the use of better digital technology.
The United Kingdom is a famous study abroad destination for Malaysian and Singaporean students. The United Kingdom is the finest country since it is home to the most outstanding universities. This country also offers fantastic tourist attractions, pubs, historic sites, and museums. It is the ideal country for everyone since it gives pupils a broad education and exposure to English and British slang.
Students in Canada are offered the best study experience, just as there are many university options. It also has a world-class educational system that is taught in English and French. Besides studies, this country also has far more sites to visit than any other country. Canada contains gorgeous green forests and many unexplored lakes which will add as a boon to the adventure in you.
There is no doubt that academics in the United States provides one of the finest universities and holds top ranks in the world. You will learn and collaborate with leading firms as an extra benefit of studying in the United States. This country will attract students from all across the world. More diverse people will make your university experience more enjoyable and vivid.
New Zealand has led the path for a comparable but still exciting platform for foreign students by delivering the greatest education and teaching, which is more research-based and organised. Best of all, because each of the eight institutions is state-funded, they have the resources to deliver top-tier education to overseas students studying in New Zealand. Also, for students, by assisting them in working 20 hours per week while pursuing their aspirations.
So, what are you waiting for? Set aside all your doubts because now is the time to make your dream a reality and experience the benefits of studying abroad on your own.