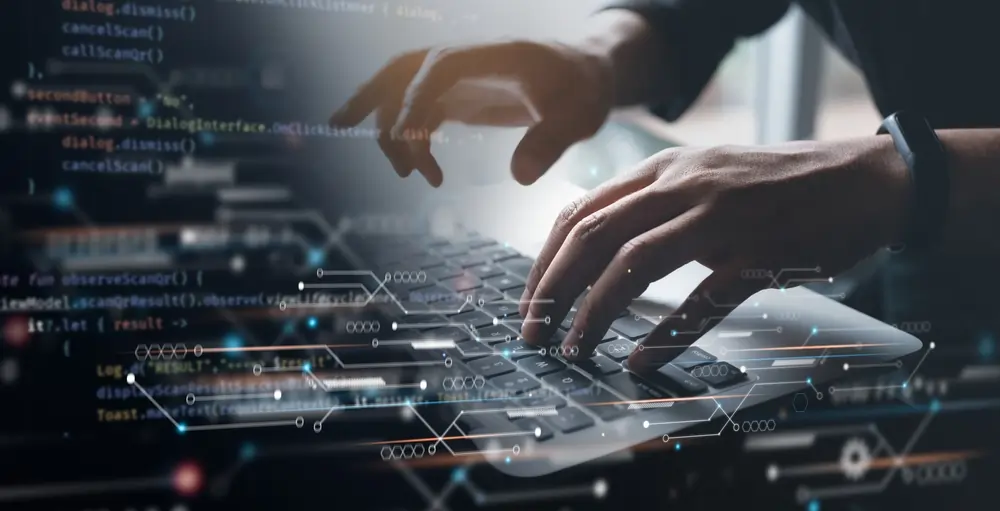 Computer Science Overview
Do you like picking up new coding languages and creating new software? You will  thoroughly investigate this intriguing area of study through computer science courses and get skills that are in high demand by businesses. You'll be well-positioned to begin an interesting and fulfilling career given the high demand for computer science graduates.

Computer scientists are essential to the creation and upkeep of the intricate systems that keep our modern civilization functioning. Computer technology has a significant effect on almost every part of our lives, from our homes and offices to our schools and entertainment venues. Computer scientists are increasingly needed to develop and advance these systems as our reliance on information technology increases.

Due to their technical proficiency and aptitude, computer science graduates are highly sought after globally. Many exciting and rewarding occupations, including software engineering, system administration, database management, etc., are open to those with a degree in computer science abroad. 

The capacity to design, build, test, implement, and manage software applications is a skill acquired by computer science graduates. They have received thorough training in computer course, and they apply this understanding to resolve challenging issues. Graduates from computer science abroad have excellent analytical and problem-solving capabilities in addition to their technical talents.

Computer science courses can help you succeed in today's quickly changing technology environment. Learning how to design, create, and manage software will prepare you for an interesting and fulfilling job in this expanding sector. Computer science courses are designed to meet the growing demand for a more in-depth and wide understanding of computers.
Why Study Computer Science Courses Abroad?
The goal of studying computer science courses abroad is to teach students to the core principles and techniques of object-oriented programming. These computer science courses will provide you with the abilities required for productive academic study, regardless of your beginning degree of coding knowledge. You will get a solid foundation for your future profession by exploring alternative ways of thinking and experimenting with diverse problem-solving methodologies via computer science.

Learning advanced programming ideas is essential for success as a computer science student in fields like game programming, software development, and web development. You will have the knowledge and abilities necessary for a prosperous career in computers by the time your computer science degree is complete. You will have the chance to focus on cutting-edge subjects in your senior year and work on a project of your choice. Your goals and interests in computer science will grow as a result of this program's exposure to a variety of issues.

There are numerous benefits to studying computer science abroad, but one of the biggest ones is the degree freedom it offers. Whether it's artificial intelligence, cyber security, game development, software engineering, or web and app development, you may narrow your studies to be most relevant to your interests. Furthermore, since studying computer science abroad immerses you in a worldwide setting, you'll have lots of chances to demonstrate your abilities through contests and internships.

Aside from furthering your education, studying computer science abroad is a fantastic opportunity to get to know individuals from all over the world and learn about other cultures. It will highlight your capacity for environment adaptation and broaden your cultural understanding. You will also get the chance to take part in exchange programmes with other students.

Subjects that will be covered:

Programming Fundamental

Computing Fundamentals

Programming Languages

Algorithms

Software Engineering

Artificial Intelligence

Database Systems
Requirements to Study Computer Science Courses Abroad
Depending on the curriculum and university, it typically takes three to four years to finish a bachelor's degree in computer science abroad. Before starting their computer science studies, the majority of students will need to have achieved a minimum score on an English proficiency exam and successfully finished a pre-university course.

You can complete a master's degree in computer science abroad in one to two years. The majority of universities demand that you have previously earned a bachelor's degree in order to apply for computer science courses. In some circumstances, completing an internship or job experience successfully may also be necessary. But not all universities will ask for job experience. An English proficiency exam always calls for a minimum score.

To be qualified for computer science courses abroad, you must meet the prerequisites listed. Contact us for further information or any other queries.
S.no
Courses
Duration
Requirement
1.
Bachelor's in Computer Science
3 to 4 years

Successful completion of a pre-university course.

Required minimum score in English test.

2.
Master's in Computer Science
1 to 2 years

Successful completion of bachelor's degree in a relevant field.
Required minimum score in English test
University of Illinois at Chicago
Colorado State University
Illinois Institute of Technology
New Jersey Institute of Technology
Suffolk University
Kent State University
University of Mississippi
Career Prospects and Scope of Computer Science Abroad
Computer abilities are becoming more and more crucial in today's employment economy. Studying computer science can offer you an edge over others in any job that involves computers or technology, even if you don't wish to work in the technology sector. The world is changing quickly, and those who can keep up with the most recent fashions and innovations will flourish.

The study of computer science is becoming more and more common. Given how quickly technology is developing, many students are keen to learn how to code and create software. The need for competent personnel in the field of computer science makes for promising career opportunities for those who major in this subject. Although there is a very strong employment market for computer scientists, it is vital to keep in mind that there might be intense competition. Computer science is a fantastic choice for people wishing to succeed in their professional path because it is a very competitive field.

List of Computer science jobs:
Software Engineer

Web Developer

Programmer

Database Developer

AI Data Analyst

UI/UX Designer

Game Developer

IT Consultant / Analyst

Network Engineer

Data Architect

Cyber Security Specialist

Multimedia Programmer
Best Countries to Study Computer Science Abroad
If you're looking for top-ranked universities to study computer science courses abroad, look no further than these top study destinations: 
You'll be able to choose from a variety of courses to suit your needs, while also having the option to divert from your original course by embarking on a new and fascinating adventure! Education isn't the only thing you'll gain from these experiences, you'll also graduate with a new perspective, a sense of adventure, and a renewed passion for learning. 
Head over to our website if you want to acquire more in-depth information about these study destinations, the best countries to study in, and the best universities to pick from!
Frequently Asked Questions
Can I study computer science abroad without maths?
Although some aspects of computing may require mathematical skills, it is definitely not necessary to be a maths genius to succeed in this field. You will certainly be able to get through the course without any problem as long as you're passionate about computing.
Which computer course is in high demand?
Are computer science courses hard to study?
What is the scope of computer science abroad?
What can I do after a computer science degree?
Is it easy to find a job in computer science?
Which computer field is best for the future?
We See Your Potential and Help You to Study Computer Science Abroad That Adds Significant Value to Your Future.
Our international education counsellors proactively guide and support the international students in choosing the top-ranking universities and the best courses to achieve their career goal. We make sure our students are provided with personalised support when applying to study computer science abroad.
To get in touch with our expert team, simply leave your details below and we'll call you for a FREE consultation.

LAM'AAN LATHEEF , MALDIVES,
THIRU JASMI, KLANG VALLEY,
PEE HUI HAN, KLANG VALLEY,
YEE HAOW KHOO, KLANG VALLEY,