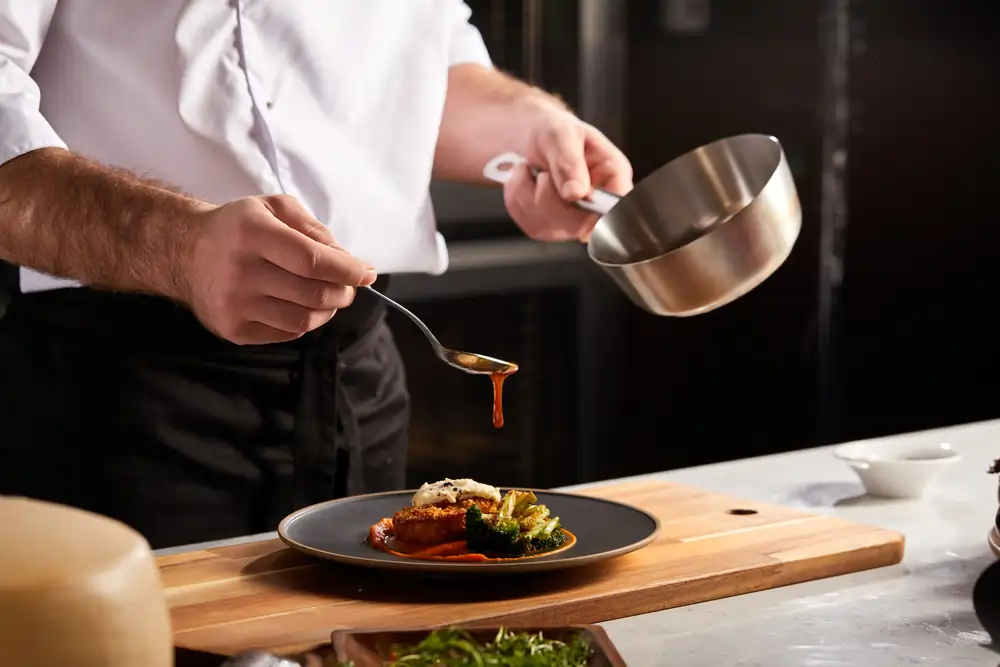 Culinary Arts Course Overview
Food is not just a basic necessity of life, it is love – It is passion. For some, cooking delicious food is passion and for others presenting the food in the most creative way is passion. And for many, discovering the best cuisines and restaurants out there to go on an eating spree is passion. So a degree in culinary arts will always be relevant and useful because there are food lovers all over the world.

If your passion is to cook tasty and healthy food, then a degree in culinary arts will kindle your passion and prepare you to win in the world of culinary. Culinary arts is the preparation, presentation and cooking of food in the most creative and delicious way possible. Culinary arts also includes kitchen management and beverage management and will help you gain the skills necessary to succeed in the hospitality industry.The world of culinary is huge and exciting that pursuing a career in culinary cannot go wrong.
Why Study Culinary Arts Abroad?
Choosing a culinary arts degree abroad will give you the opportunity to explore different and insightful cooking techniques, cultures and their cuisines. Plus you get to understand more of the history and culture through food.

There are a number of different culinary arts programs abroad ranging from culinary management to catering services which are making culinary courses even more popular among international students. Universities abroad offer a diverse set of culinary courses for those wanting to specialise in one of the many fields in culinary such as wine production, kitchen management, and corporate relations as well as courses on local food and cooking styles.

Culinary courses also include fields such as viniculture, baking, nutrition and entrepreneurship to help students run their own restaurants. You will gain new and advanced skills from some of the world's most renowned chefs and will learn about the nuances of cooking and presenting food. Studying culinary arts abroad will also help you appreciate food more and recognise the art in it.
Other perks of studying culinary arts abroad:
Communication and personality development.

You will learn skills like time management, decision making and organising which will help you both personally and professionally.

You will start seeing yourself opting for a healthier lifestyle.

 

Chance to meet people of different cultures and different backgrounds.

Chance to experience hands-on learning about the industry through internships, projects and externships.
Areas that will be covered in this course:
Food and Beverage service

Gastronomy

Food management facilities

Food styling and presentation 

Leadership and management

Pastry and baking

Baking skills

Food safety and sanitation

World cuisines

Hospitality management

Food and beverage operations

Diet and nutrition
Requirements to Study Culinary Courses Abroad
Requirements and eligibility differ from university to university, but most universities abroad usually require you to pass any one of the English proficiency exams, such as the TOEFL, IELTS, PTE, etc. 

Check out the table below for the requirements and duration for each of the culinary courses abroad:
S.no
Courses
Duration
Eligibility
1.

Diploma

9 months to 1 year

Successful completion of O-level programme with a decent score.

Required to be 18 or above.

2.
Bachelor's
3 to 4 years

Required to complete the pre-university course with a decent score.
University of Illinois at Chicago
Colorado State University
Illinois Institute of Technology
New Jersey Institute of Technology
Suffolk University
Kent State University
University of Mississippi
Career Prospects and Scope of Culinary Arts Abroad
The food industry is hands down one of the fastest growing industries with a plethora of job opportunities everywhere from restaurants and clubs to airlines and catering businesses. Those with the best creative mind and a true passion for food can always earn a name for themselves in this highly competitive industry. 

With the growth of social media, the opportunities for someone with a degree in culinary arts are only growing as new job positions are emerging. Social media's popularity is also adding heed to some of the job positions such as food photographer and food and beverage writer as there is much more space for creativity in the digital world.

You can also be your own boss and create opportunities for yourself by setting up your own food business or restaurant. As a culinary arts graduate, your entrepreneurial skills and management skills will help grow your business and carve your own place in the industry. Running a food business will give you the freedom to add your personal touch to the food and cooking techniques and let your creativity run wild.

Possible career paths with culinary arts:
Research chef

Restaurant manager

Hospitality manager

Food blogger

Food photographer 

Food stylist

Caterer

Baker or pastry chef

Food critic

Nutritionist

Service staff

Food and beverage industry instructor
Best Study Destinations for Culinary Arts Degree
You have a buffet full of options to choose the perfect university to study culinary arts. And there are some of the most popular study destinations with top universities offering culinary courses.
These study destinations are widely known for their unique course structure to mould the students to thrive in the culinary world. You will not only gain a great deal of knowledge and skills from a culinary course but will also get to explore and understand diverse cultures and perspectives.
Frequently Asked Questions
Is culinary a bachelor's degree?
There are both bachelor's and master's degrees in culinary arts in almost all top universities abroad. A bachelor's degree would introduce you to the basics of food presentation, preparation and fundamentals of kitchen and restaurant management. Along with that, you will also learn about food serving and safety, nutrition and managerial skills.
Which universities are best for culinary arts?
What are the high paying culinary jobs?
Is culinary arts a good career?
Culinary Arts or Baking & Pastry Arts: Which is Right for You?
We see your potential and help you to study Culinary Arts Abroad that adds significant value to your future.
Our international education counsellors proactively guide and support the international students in choosing the top-ranking universities and the best courses to achieve their career goal. We make sure our students are provided with personalised support when applying to study Culinary Arts abroad.
To get in touch with our expert team, simply leave your details below and we'll call you for a FREE consultation.

LAM'AAN LATHEEF , MALDIVES,
THIRU JASMI, KLANG VALLEY,
PEE HUI HAN, KLANG VALLEY,
YEE HAOW KHOO, KLANG VALLEY,