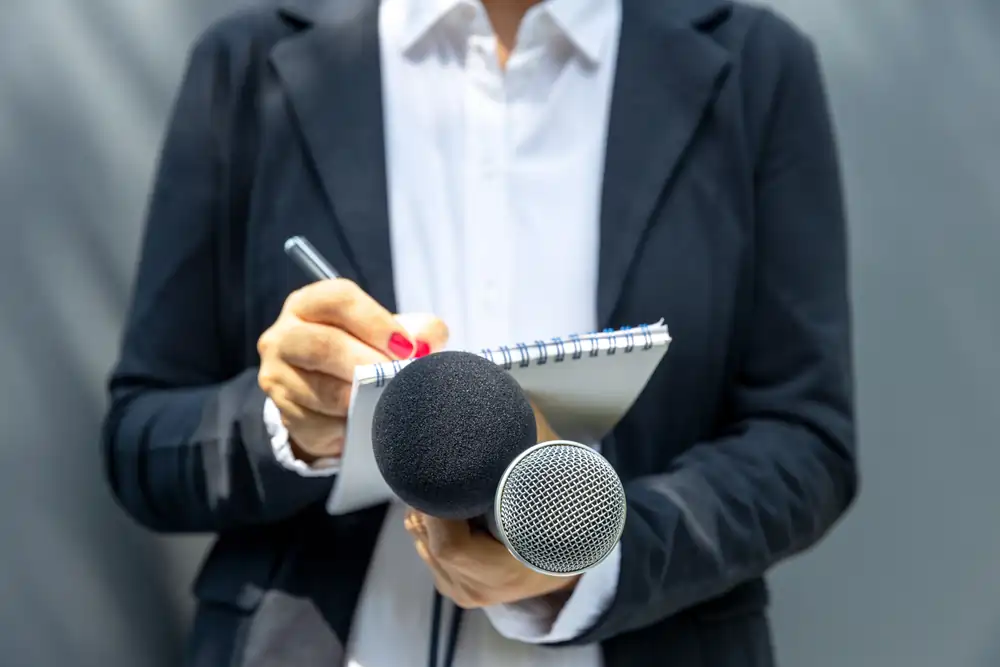 Do you enjoy staying updated on news? Or maybe you like to write to express yourself. Your chance to develop your hobbies and ambitions into a profession may lie in taking one of the journalism courses abroad. Journalism comprises a lot more than simply the daily news; it also includes entertainment, technology, sports, and other things. So why not enrol in a journalism course to learn everything it has to offer?

In order to obtain and communicate valuable information to the public, journalism is a crucial profession. There are several outlets available in the modern era of digital media for publishing news and other kinds of information. Channels for journalists to contact their audiences on social media sites like Facebook, Twitter, Instagram, and YouTube have become essential.
In the field of journalism, there are several job options. You can decide to concentrate on media and communications, business and marketing, or science communications. You can find a fulfilling job in journalism no matter what field you select.

Every nation has its unique style of news gathering, and each has different laws and ethical standards governing journalists. You can gain a more global perspective on international relations by enrolling in journalism courses abroad. This will increase your confidence as a responsible journalist as you deliver your reports to the public.
Why Study Journalism Courses Abroad?
Journalism is the best means to spread your message, whether you want to speak up for the common man or just report the news. When it comes to journalism courses, you'll get to investigate the artistic potential of numerous media and discover efficient communication techniques. You'll be able to communicate your ideas clearly and loudly by developing your skill set. Journalism is a fantastic opportunity to get your opinion heard, regardless of whether you're interested in in-depth reporting or intelligent op-eds.

You will gain a thorough grasp of how media and communication work in society through taking journalism courses abroad. Through studying various forms of writing, journalism, digital and visual communications, and social media, you may develop expert abilities and competency. You will be able to create a well-rounded perspective on the subject by learning about technology, advertising, marketing, and communications.

Knowing a second language is crucial when it comes to worldwide news. The ability to speak in the language of the target culture is essential if you wish to work as a foreign correspondent or cover global news. You may obtain vital experience connecting with people from other cultures by taking a journalism course abroad in addition to learning about journalistic practises and ethics. Speaking the local language will provide you the advantage you need, whether you're interacting with sources or establishing contacts.

You will be exposed to other cultures and viewpoints through journalism courses, which will change how you view the world. Learning a second language while you are studying journalism courses abroad might also be advantageous. Through specialised seminars, you will have the chance to develop your talents in a number of different ways. These programmes can help you advance in your job and will increase your marketability when you return home.

Subjects that will be covered:

Reporting and writing

Media law and ethics

Documentary and photography

News production

Media and society

Broadcast journalism

Audio journalism
Requirements to Study Journalism Courses Abroad
A bachelor's degree in journalism course can be earned in three to four years depending on your choice of university and course, the exact time frame could change. You must have achieved a qualifying score on the English proficiency exam and successfully finished a pre-university course in order to be eligible for journalism courses abroad at most universities.

You could earn your journalism master's degree in one to two years. Typically, in order to apply for journalism courses abroad, you must have previously earned your undergraduate degree. However, having employment or an internship under your belt will greatly increase the competitiveness of your profile. Most universities demand a minimum score on an English proficiency test.

Getting a PhD in journalism course might be the ideal step for developing your career. Your research project will determine how long it takes you to accomplish your PhD, however, most students may finish their degree in three to four years. Most universities demand a master's degree in journalism or media studies as well as a minimum score on an English proficiency exam in order to enrol yourself in PhD programmes.

To be qualified for one of the journalism courses abroad, you must meet the prerequisites. You can also contact us for further information or any other queries.
S.no
Courses
Duration
Requirement
1.
Bachelor's in Journalism 
3 to 4 years

Successful completion of pre-university course.

Required minimum score in English test.

2.
Master's in Journalism 
1 to 2 years

Successful completion of bachelor's degree in a relevant field.

Successful completion of an internship for added value.

Required minimum score in English test

3.

PhD in Journalism 

3 to 4 years

Successful completion of master's degree in

journalism or media studies

.

Required minimum score in English test.
University of Illinois at Chicago
Colorado State University
Illinois Institute of Technology
New Jersey Institute of Technology
Suffolk University
Kent State University
University of Mississippi
Career Prospects and Scope of Journalism Abroad
A degree in journalism can help you get the career you desire, whether you want to work in corporate communications or broadcast journalism. You will study the various facets of this profession in journalism courses, from writing and research to media relations. The skill sets acquired through these multiple channels are very advantageous and in great demand in many sectors. Therefore, whether you are certain of your career goals or are still considering your alternatives, know that having taken a journalism education will undoubtedly increase your chances of success.

List of Journalism jobs:
News reporter

Photojournalist

News anchor

Radio jockey

Editor

Newsreader

Public relations

Media researcher

Copywriter

Data journalist

Cartoonist

Content writer
Best Countries to Study Journalism Abroad
If you're looking for top-ranked universities to study a journalism course abroad, look no further than these top study destinations! 
You'll be able to choose from a variety of courses to suit your needs, and you also have the option to divert from your original course by embarking on a new and fascinating adventure! Education isn't the only thing you'll gain from these experiences, you'll also come away with a new perspective, a sense of adventure, and a renewed passion for learning. 
Head to us if you want to acquire more in-depth information about these study destinations, the best countries to study in, or the best universities to attend.
Frequently Asked Questions
Do you need maths for journalism courses?
No, there isn't any specific maths requirement for journalism courses. To get admission into a journalism course, you should have successfully completed any pre-university course. Although a few universities do require entrance exams, the main requirements for selection into a journalism degree program are language proficiency, creative writing, and analytical skills.
What qualifications do you need to study a journalism course?
Are journalism courses hard to study?
What are the available courses that can be taken to pursue a career in journalism?
What is the annual fee for journalism courses?
Is Journalism in high demand?
How can I apply for a journalism course abroad?
We See Your Potential and Help You to Study Journalism Abroad That Adds Significant Value to Your Future.
Our international education counsellors proactively guide and support the international students in choosing the top-ranking universities and the best courses to achieve their career goal. We make sure our students are provided with personalised support when applying to study journalism abroad.
To get in touch with our expert team, simply leave your details below and we'll call you for a FREE consultation.

LAM'AAN LATHEEF , MALDIVES,
THIRU JASMI, KLANG VALLEY,
PEE HUI HAN, KLANG VALLEY,
YEE HAOW KHOO, KLANG VALLEY,