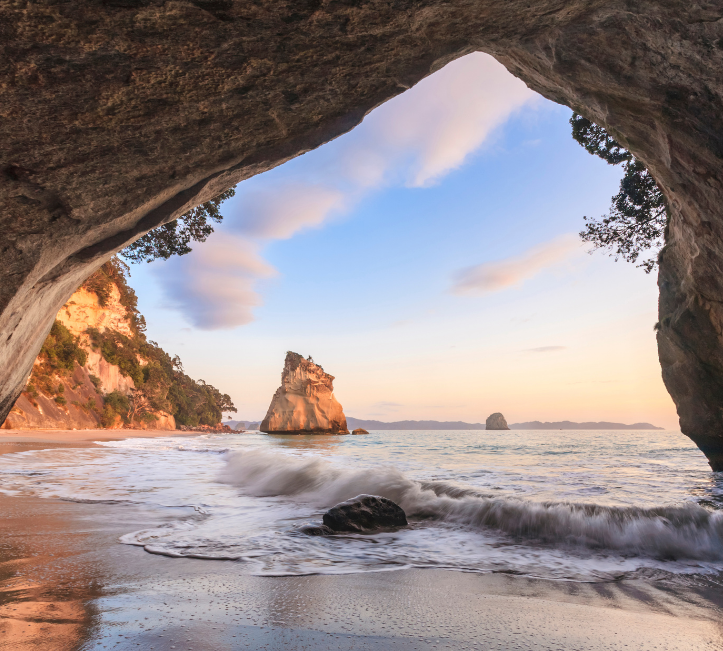 Future proof your career in New Zealand
Institutions in New Zealand
New Zealand is perfect study destination for international students, with an incredible natural environment to explore and world-class learning. It is ranked as number 1 for preparing students for the future by The Economic Intelligence Unit.
Speak To Us


Study at one of the world's best institutions
Do you know that all eight New Zealand universities rank in the top 3% in the world?
Universities in New Zealand focus on personalized learning and job ready skills that will set you up for an amazing career. You'll learn in a culturally diverse atmosphere that is known for being safe and peaceful for international students.
Enjoy hi-tech classes and personalized attention in an innovative educational system
Experience the welcoming people of New Zealand and enjoy their traditional hospitality
Explore the vast wild spaces and take part in endless adventure activities in the most dramatic environment
Top reasons to choose New Zealand as a study destination
Well-funded and innovative universities with friendly people having a zest for life
Unique landscapes that attract visitors from all over the world
Live and study in a safe, prosperous society
Affordable tuition fees in comparison with other countries
Dynamic multi-cultural society
Students can work 20 hours per week (Part time) and 40 hours per week (Full time) during vacations
Post study work visa for 12 months
Attractive scholarships for international students

Find out where you can study in New Zealand
Universities in New Zealand gives personalized attention and a flexible learning environment to the students. They also focus on research, which means you'll be working with leading thinkers and researchers on cutting-edge projects.

Partner institutions in New Zealand

(Please note that some institutions may not be represented in your region, please connect with our regional counsellors for more information.)
Auckland University of Technology (AUT)

Lincoln University, New Zealand

Kaplan International - Massey University
The University of Auckland

The University of Otago

The University of Waikato
University of Canterbury

University of Otago Language Centre and Foundation Year

Victoria University of Wellington
Ara Institute of Canterbury

Aspire2 International

Auckland Institute of Studies New Zealand

Auckland International College

Le Cordon Bleu New Zealand

Navitas University of Canterbury International College

Nelson Marlborough Institute of Technology
New Zealand Tertiary College

North Tec

Otago Polytechnic

Pacific International Hotel Management School

Southern Institute of Technology

St Matthew's Collegiate School

Study Group - New Zealand
Toi Ohomai Institute of Technology

Unitec Institute of Technology

UP International College

UP New Zealand Management Academies

UP New Zealand School of Tourism

UP Yoobee Colleges

Western Institute of Technology

Wintec Waikato Institute of Technology
AECC is a wonderful agency and I had an excellent experience with them. Be it applying to the university or for the visa, the staff there helped me immensely in every step thoroughly. I would like to specially thank my counsellor for the expert guidance and support she had rendered throughout the entire process. She was of great help whenever I had doubts regarding any of the processes and was someone I could call on anytime. I would gladly recommend the agency to my peers. Thank you, AECC Global!
Absolutely one of the best! Received excellent service and guidance and very accommodating! Thank you AECC Global for fulfilling my study abroad dream.
All the information provided by my counsellor is excellent and process of visa file was very fast as compared to my other friends. Excellent services of AECC Global. It is a great place to visit for student visa service.
I would like to thank the whole AECC Global team because the experience here was altogether very lively and friendly. They gave every information to me starting from the selection of course till my documentation process. I would really recommend AECC for overseas education consultation.
At AECC Global, I was allotted with a counselor who accompanied and explained the whole application process. Special thanks to the counselors and the other advisors. I would highly recommend AECC Global to everyone.
The overall process was very smooth and the counsellor at AECC Global was very polite and guided me throughout the application in a simple, understandable way. I am very happy with the service and I got my visa granted after one day of application. I'll be recommending AECC Global to my friends, whosoever plans to study abroad.