Today the world is facing many challenges related to food and nutrition. Two prominent public health problems, obesity and hunger, are leading to malnutrition and a range of other health concerns. There are also issues surrounding food intolerance, disease prevention, the spread of misinformation, and the impact of food on our well-being.

Now more people are becoming aware of the impact their diet can have on their daily life, and growing invested in improving their health through nutrition. It is well known that a healthy diet is one of the best ways to prevent health problems, treat illnesses and improve general quality of life. However, we are also surrounded by misleading information about fad diets, influencers sharing rapid weight-loss products, and the benefits of supposed 'superfoods'. It can be overwhelming, and difficult to sort through the huge volume of information to make choices that are actually beneficial for our health.

With all this comes global demand for qualified nutrition professionals, who can apply their expertise to improve public health and engage in health promotion. It is an exciting field with many career opportunities which allow you to improve people's lives with evidence-based insights about food and nutrition.

According to the Global Wellness Institute, the global healthy eating, nutrition and weight loss sector was worth an estimated $702 billion in 2018. In Australia, job opportunities for nutrition professionals are expected to increase by 17.6% over the next five years (Australian Jobs Report 2019; Department of Education, Skills and Employment), making it one of the fastest growing industries, offering excellent employment prospects. Singapore has become a leading food and nutrition hub in South-East Asia, offering many prospects for graduates with a well-respected qualification.

Studying a degree in food and nutrition is your pathway to this world of opportunity. It can lead you to a wide range of career options, including in the food industry, public health, sports nutrition, policy development, and consumer education and awareness campaigns. You might also pursue further postgraduate study in dietetics, to earn the added qualification needed to work one-on-one with patients in clinical contexts.
Learn from the best at Deakin
Interested in the scientific links between food, nutrition, human health and disease prevention? Turn your curiosity into a career with an industry-leading nutrition qualification from Deakin University, Australia.

Deakin is ranked in the Top 1% of all universities worldwide (ShanghaiRankings), and is one of the Top 50 young universities in the world (QS). Our Bachelor of Nutrition Science explores the role of food and nutrition in human health and disease prevention. It is a flexible degree, allowing you to pursue what interests you most and select from a range of major sequences and elective units from areas like food innovation, health promotion, psychology, and exercise science.

To best prepare you for your future career, at Deakin you don't just learn in typical classrooms, but in modern facilities like those used in the real world. Deakin's purpose-built facilities have been modelled on commercial laboratories. They provide you with experience using professional equipment and engaging in the same kinds of work that await you in the nutrition industry.

Bachelor of Nutrition Science students also have the opportunity to gain 100 hours of valuable practical experience. This ensures you receive on-site, hands-on training in a food and nutrition organisation. As a Deakin graduate, you will be well prepared for a range of careers in this growing industry.

For those interested in pursuing further study to become a dietitian, Deakin also offers the Bachelor of Nutrition Science (Dietetics Pathway). This course is designed to include the prerequisite units needed to meet entry requirements for Deakin's Master of Dietetics. It also offers high-achieving students guaranteed entry into the Master of Dietetics if you achieve a weighted average mark (WAM) of 75 or above.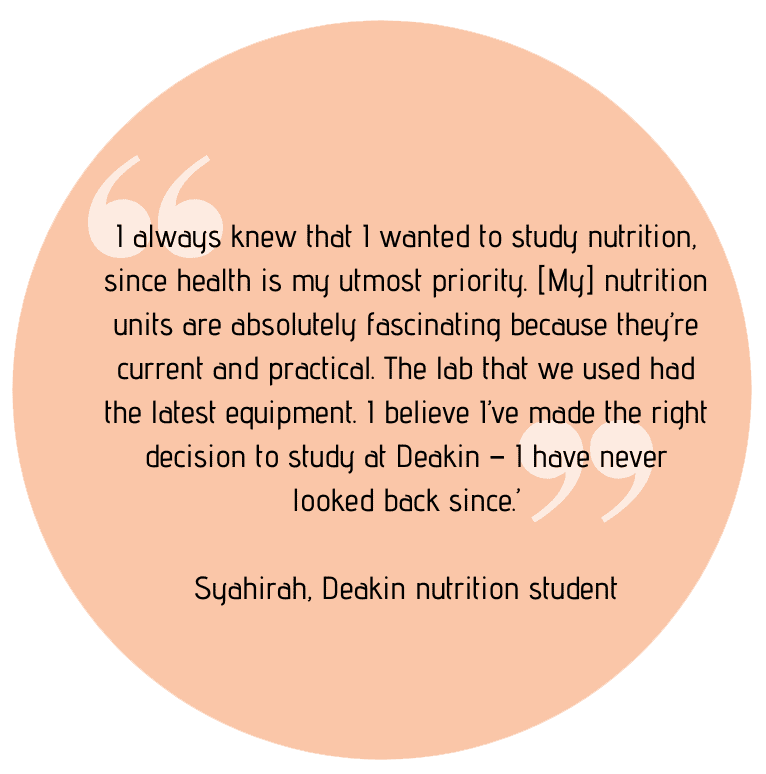 Read more about Syahirah's story.
Deakin scholarship opportunities for Singaporean students
Deakin is committed to helping students achieve their full potential. The Deakin Singapore Health Bursary is a 20% scholarship for high-achieving international students applying for certain undergraduate or postgraduate health degrees. Students from Singapore who apply to study nutrition are automatically assessed for eligibility – there is no need to apply for the scholarship separately.

Deakin also offers a wide range of other scholarships to support students – including two major scholarships specifically for international students.
Explore your future in nutrition
Deakin's Bachelor of Nutrition Science will help you kick-start your career in nutrition. We are ready to help you take the next step. Find out more.