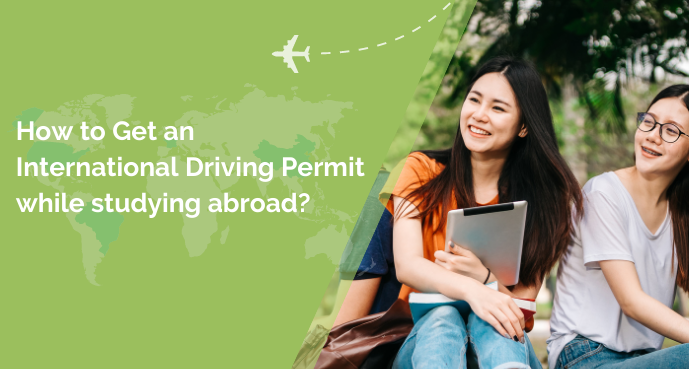 Vroom vroom! Different countries have different driving laws, from the side of the road, you drive on to how to pass a driving test. Make sure you know the specific requirements if you want to drive while studying abroad.
International driver's license in the UK for international students

If you have a driving license that you obtained from an EU or EEA country, it will be valid in the UK. If you have a license issued by one of the 46 "designated countries or territories", you can use it only for up to 12 months and then must apply to exchange it for a GB license.
If your license isn't from a designated country or you don't already have one, you might need to apply for a provisional license. After that, you'll need to pass a driving test and then apply for a full one. In the UK, those who don't have a license must have been studying there for at least six months before taking their driving test. In England, Scotland, and Wales, the Driver and Vehicle Licensing Authority (DVLA) issues driving licenses. If your visa gets revoked, the DVLA may revoke your license. In Northern Ireland, the Driver & Vehicle Agency (DVLA) will issue your license if you pass your driving test.
International driver's license in the USA for international students

Getting a driver's license in the USA depends on the state you live in. The best way to start is to look up your state's Department of Motor Vehicles or Registry of Motor Vehicles and search for their specific requirements. However, you can only apply for your state license immediately upon arrival as an international student once your Student and Exchange Visitor Information System (SEVIS) record has been activated.
If you're not already a licensed driver, you'll need to apply for one in the state where you are studying and take a test before you can drive in the USA. Check with your local DMV or RMV for its requirements. They vary between states, so remember that once you get your license, there are different rules to follow in each state.
International driver's license in Australia for international students

People often ask if they can use their home country's driving license in Australia. The answer is yes, as long as your license conforms to the International Driving Permit rules. To be eligible for IDP, you will have to have a valid and current driver's license. If your license is not written in English, you will need to apply for an International Driving Permit (IDP) through your home country or have it translated by a translation service certified by NAATI (The National Accreditation Authority for Translators and Interpreters Ltd).
If you don't have your own driver's license but want to drive in Australia, you'll need to apply with your state or territory motor registry. You'll then need to take a driving test. It's important to be aware that driving rules in Australia vary between states and territories, so make sure you research what applies to the area where you plan on driving.
International driver's license in Canada for international students

To obtain a Canadian driver's license as an international student, you need to be enrolled in a full-time program at a Designated Learning Institution in British Columbia. Otherwise, you have 90 days to switch your valid driver's license issued outside Canada to a British Columbia license, which can be done through ICBC (Insurance Corporation of BC).
Note: If you do choose to obtain or exchange your driving license in the country where you are studying, it is advisable to check the rules around using or converting it in your home country.
We hope the aforementioned information helps you plan your study abroad journey. This blog about the international driving permit is hopefully a relief for international students looking forward to studying abroad.