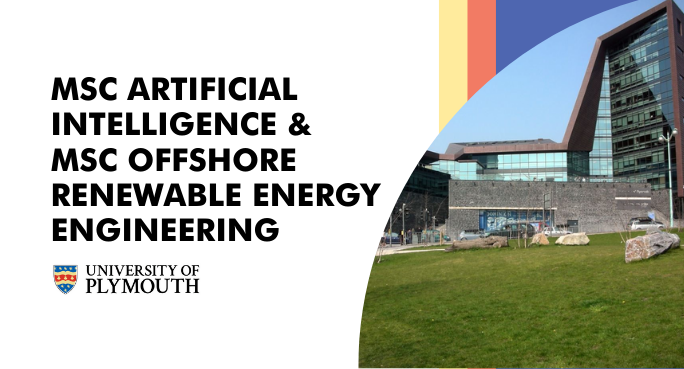 MSc Artificial Intelligence 
This course offers students both theoretical and practical knowledge about AI. As part of this course, students will gain thorough knowledge about machine learning, computational intelligence, computer vision and big data. The department is equipped with state-of-the-art facilities for research purposes in AI and robotics. The department has strong industrial links and this provides students with a range of employment opportunities with a range of organizations.
Entry requirements
Those who do not have sufficient knowledge about programming techniques will have to undertake preparatory work at the start of the course.

Students who do not meet the qualification requirements might have to attend an interview.
MSc Offshore Renewable Energy Engineering
This course is suitable for engineering and science degree graduates who are interested in learning about the offshore renewable energy industry, incorporating offshore wind, wave and tidal energy. This is a 1-year programme that introduces students to a wide range of disciplines including meteorology, aerodynamics, mechanical, electrical, structural and offshore engineering. As part of this course, students can benefit from the Coastal, Ocean and Sediment Transport (COAST) lab. Researchers at this lab work towards enhancing marine-related research through cutting-edge technology.
Entry requirements
Hold a degree to honours level at 2:2 or above in engineering, mathematics, robotics, marine and physical science-related subjects

Grade C or above on GSCE( or equivalent) Math.

Even if the students do not qualify for this requirement, they can still be eligible if they have the necessary industrial experience.
English Language Requirement
Submit proof of English language ability

Minimum IELTS band score is 6.5 with a minimum score of 5.5 in each section
Virtual Postgraduate Open Day
For more details, do not forget to attend the FSE Virtual Postgraduate Open Day on 30th April 2021. This open day will focus on programmes offered by the Faculty of Science and Engineering. This event will greatly benefit students who are looking to learn more about the programmes offered at University of Plymouth. Students will also get the opportunity to directly interact with the programme managers.