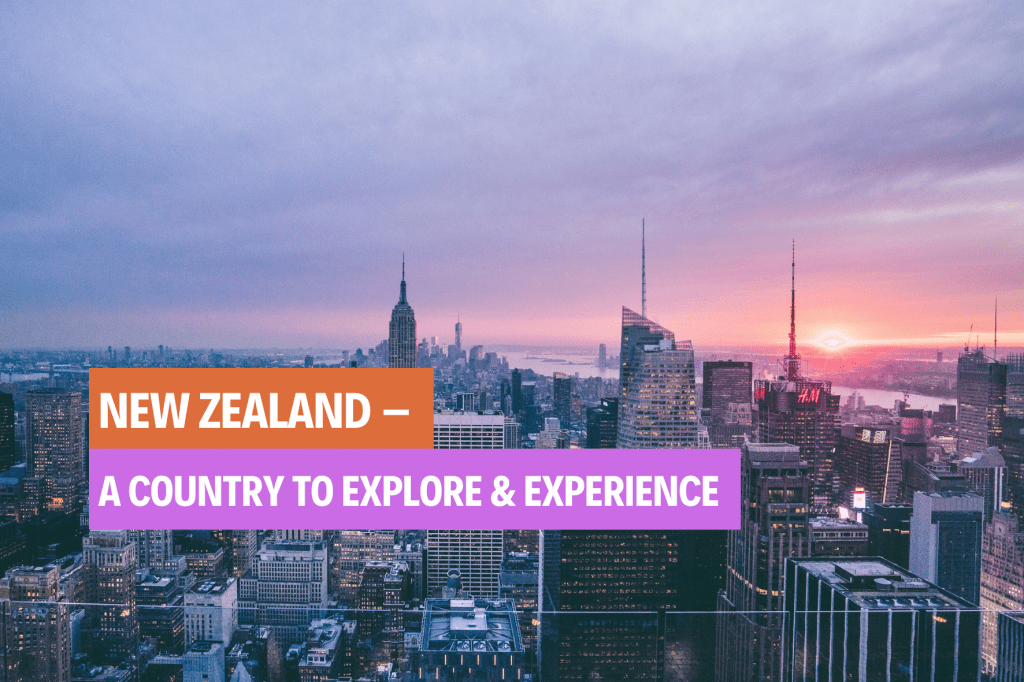 [:en]New Zealand is a very happening country with some events or festivals happening throughout the year across the country. International students find it a rejuvenating experience to study and explore this country, the land of the long white cloud. Students during their tenure at the university, make meaningful friendships and professional connections which turn out to be very valuable later in their life. International students in New Zealand have an association for themselves that helps them support and stand for each other.

Why Should You Study in New Zealand?
New Zealand is today home for over 50000 international students. The island country is one of the leading choices of students who look for a study abroad destination with a globally regarded, highly practical learning oriented curriculum. With its breath-taking landscape and diverse population, the country is a desired destination for international students. After the conclusion of studies, students could pursue international careers or work in New Zealand based on their eligibility. The country is one of the safest nations in the world with a very low crime rate. Universities in New Zealand are world-class institutions and here are some points that will help students who are aspiring to pursue their higher studies in this country.

What Can You Study in New Zealand?
New Zealand's education system is designed to encourage creativity, innovation and deep understanding of subjects. For a national population of 4.8 million, there are 8 state funded universities and over 800 private institutions that provide diploma, postgraduate, vocational and doctoral programs in various arts, humanities and professional streams. There are also institutions that specialize in teacher training that produce high quality teaching professionals for schools. Based on the preferences of international students, Engineering, Business Administration, Hospitality management are some of the most popular courses today. Since all of the top universities excel in providing the best education and career prospects, with the right guidance, you could find the course and the university that best fits your career aspirations.

Top Cities in New Zealand to Study In
Auckland

Auckland is one of the world's top 20 best cities to live in.
It is called the City of sails for being home to picturesque waters and unique wildlife.
Auckland enjoys subtropical climate with warm summers and damp winters.
Wellington

The capital city is home to some of the most successful start-ups of New Zealand.
With its better cost of living, best climate and numerous tourist attractions in and around, Wellington has been named as the best city in the world to live in.
The city is officially a nuke-free zone with no nuclear-powered ships allowed to its ports.
Christchurch

The city, owing to its beautiful natural scenery, is called the Garden City and a major tourist attraction of New Zealand.
This city has the highest employment rate among all the cities of the country.
Situated in the Canterbury region, the city is a home to some of the best educational institutions and small and medium sized businesses.
Dunedin

The University of Otago, New Zealand's oldest university, keeps the city young with the number of students coming to live in the city every year.
Dunedin is the ideal place for people who love extreme sports and bird watching.
Numerous art galleries, cafes and wineries in the city make the place a great location to live and experience for youngsters.
Hamilton

Hamilton is the largest city in New Zealand with 50% of its people below 30 years of age and belonging to 80 different ethnicity.
The city has major international sports venues and only 1.5 hours' drive from international airport in Auckland.
The longest river in the country Waikato flows through the city for 16 KM.
Universities in New Zealand
Auckland University of Technology
Located in the heart of Auckland, Auckland University of Technology is one of the top 50 young global universities. Spread across three campuses in the city, the university offers graduate and undergraduate programs in Business, Law, Economics, Arts, Design, Engineering, Health Science, Sports and Hospitality. It also offers programs in unique courses like creative technologies which is a strategic blend of arts, digital media, design and entrepreneurship. The university also has courses specially designed for indigenous communities. Learn more about AUT here.

University of Otago
University of Otago brings life to the city, Dunedin by attracting young, international students from different countries. The university has over 3,000 international students and ranks in the top 1% of the best universities in the world. The university offers a wide range of courses including Medical, Dentistry, Arts, Marine Science, Archeology, Psychology, Performing Arts and Theology. 95% of its graduates either go straight into employment or higher studies. Various scholarships are available for eligible students from NZD$5,000 to NZD$10,000. Click here to know more about the university.

University of Canterbury
The second oldest university in the country, University of Canterbury, is known for its entrepreneurship, start-up culture. The university offers nearly 150 courses and has international student exchange relationship with universities in Europe and North America. The campus is truly multicultural with students of 100 different nationalities representing the campus. Internships with international companies and on-campus career fairs help students find employment. Entrepreneurship cell in the university encourages student's innovative ideas and the city Christchurch, being home to start-ups, has a high demand for graduates with business acumen and diverse skill sets. Click here to know more about the university.

The University of Waikato
Named after the river Waikato, the university is the best institution in the country to study tourism and hospitality courses. It is one of the top 100 universities in the world for research quality and impact. The serene, 65-acre campus in Hamilton offers graduate, post graduate and doctoral programs in Education, Economics, Communication and Media Studies, Accounting and Finance, Business and Management Studies, Geography, Sociology, English Language and Literature, Hospitality & Leisure Management, Development Studies and Sports related subjects. Over 2,000 international students are studying on campus and the university helps students with cheaper accommodations. The International Excellence Scholarship waives up to NZD$10,000 for eligible students. Find out more about the university here.

Lincoln University
Lincoln university is one of the world's longest functioning agriculture-based universities. The campus has been teaching agriculture for 144 years. Apart from agricultural science, students can study Commerce, Environmental science, Landscape architecture, Tourism and Sports & recreation management. The university has 10 dedicated farms for students to research and learn. With its experience and resources, the university remains to be the top choice of international students who want to pursue their degree in agricultural or environmental science. Check out more information on the university here.

Victoria University of Wellington
Perched on the top of a hill, the university offers a beautiful view of Wellington, the capital of New Zealand. Established in 1897, the university now has three campuses and offers 30 undergraduate and 140 postgraduate programs in Architecture and Design, Business, Education, Engineering, Humanities, Law and Social Sciences and Science. The university has 3,900 international students and ranks first in the world for research intensity. Being a prestigious university located in the capital city, studying here provides global exposure and network which makes it more attractive to international students. The city is well connected to the other parts of the country and to the world which makes it a favourite institution for students who look to explore as they study. Read more about the university here.

What Does it Cost to Study in New Zealand?
There are three major components to the total cost of studying in New Zealand.
Tuition fee
Cost of living
Travel and other expenses
Tuition fee costs anything between NZD$14,000 to NZD$43,000 per year depending on the choice of course and university. The exact tuition fee of the university you wish to apply for can be found out from their website as all the top universities publish this information on their website.

The cost of living in New Zealand ranges between NZD$10,000 to NZD$18,000 per year. Most international students prefer to stay in an accommodation managed by the university as it is cheaper compared to the other options. Rent, food expenses, internet and mobile bill, electricity, transportation make up the most of your regular expenses and they together cost about NZD$350 to NZD$500 a week. Here universities might want you to show proof that you have sufficient monetary resources to take care of your total yearly expenses.

The miscellaneous expenses are your leisure travel, entertainment expenses, air ticket to and from home and other lifestyle related expenses. They are not estimable since it is totally a student's call based on their affordability. Books, insurance, doctor appointments are some of the minor costs that could occur throughout the year which should be considered while budgeting.

Part Time Work Opportunities in New Zealand
International students offset their studying and living expenses by working part-time jobs. The part time jobs are plenty and a student can work up to 20 hours in a week and even full time in their holidays. The minimum wage for an adult in New Zealand is $17.70 ($18.60 from 1 April 2020 onwards) which is higher when compared to other developed nations.[:]