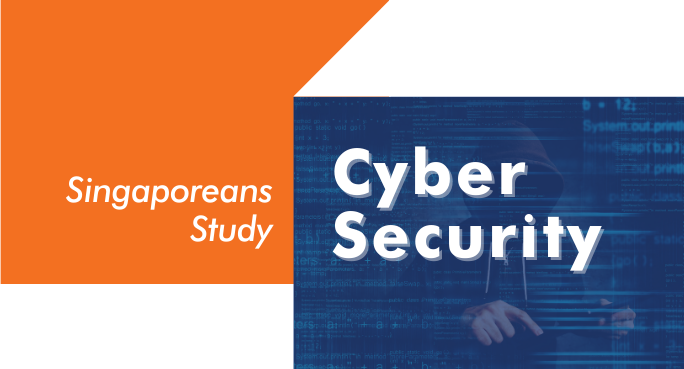 [:en]Welcome to "Singaporeans Study", a series dedicated to helping Singaporean students understand the various fields of work that might be in demand in the upcoming years. In this series, you will learn about a particular field of work, its importance, the courses you must take to pursue a career in that particular field and its job scope in the future. 
Our first field of focus under Singaporeans Study is Cybersecurity. Come on learners, let's learn about cybersecurity together!
1. What is cybersecurity and why is it significant today?
Cybersecurity, also known as information technology security or electronic information security, is the practice of protecting computers, electronic systems, servers, mobile phones, networks and other important electronic data from malicious attacks. Cybersecurity software is designed to fight and protect sensitive electronic data and devices from cyber attacks that are designed to illegally access or destroy these. 
Cybersecurity comes into play whenever there is a need to protect any sensitive electronic data. We have become more reliant on technology today and that is why there is an increased need to protect all electronic data. Threats are growing in number and type and it is important to constantly come up with different security measures to combat any type of threat that might arise. 
2. What are some of the important skills that one must acquire to become a cybersecurity professional?
Have a thorough understanding of computer science fundamentals

Be proficient in at least one programming or scripting language

Be capable of taking high-risk decisions

Always be open to learning
3. What should one study to specialize in cybersecurity?
Listed below are a few universities that one could consider to specialize in cybersecurity: 
Deakin University

offers a range of courses on cybersecurity. Deakin's cybersecurity courses are completed between two and four years. They offer undergraduate, postgraduate and research courses.  

The University of Queensland

offers certificate programmes, diploma courses and master's courses in cybersecurity. The duration ranges between 6 months and 2 years. 

The University of Waikato

offers a specialized Masters in Cyber Security programme. The duration of this course is 1.5 years. With a master's in cybersecurity, you could expect to land in a higher position with higher pay. 
4. What does the future look like for a cybersecurity specialist? 
In the coming years, there is a 27.9% chance of repeat data breaches. There will continue to be more cybersecurity thefts and breaches and this rising number of cybercrimes is the reason why we can expect to see a rise in the number of jobs for cybersecurity professionals. Currently, this field has a 0% unemployment rate. The demand for cybersecurity professionals is only expected to grow higher.  
At present, the scope of cybersecurity looks bright and people looking to pursue a career in this field can be guaranteed to land in a well-paying job after graduating with a  degree in cybersecurity. 
5. What is the status of cybersecurity in Singapore?
According to The Straits Times news released in 2020, Singapore has ranked 2nd for cyber-security literacy. Our country was appreciated for integrating cybersecurity in our formal education system, both at the primary and secondary levels. 
To make Singaporeans more aware of the growing importance of cybersecurity, the Cyber Security Agency of Singapore is launching the SG Cyber Educators Programme to upskill educators, school leaders and career guidance counsellors with the knowledge of the world of cybersecurity. As part of this programme, participants can take part in information-sharing sessions with Cisco and Kaspersky Security and attend on-site tours to develop their understanding of cybersecurity. This initiative is proof enough that cybersecurity is a fastly developing field, especially in Singapore. 
If you are interested in pursuing your studies in cybersecurity, get in touch with the education counsellors at
AECC Singapore
. We will help you choose the right course at the right university to help you land in a successful job in cybersecurity.
Book an appointment today! 
[:]