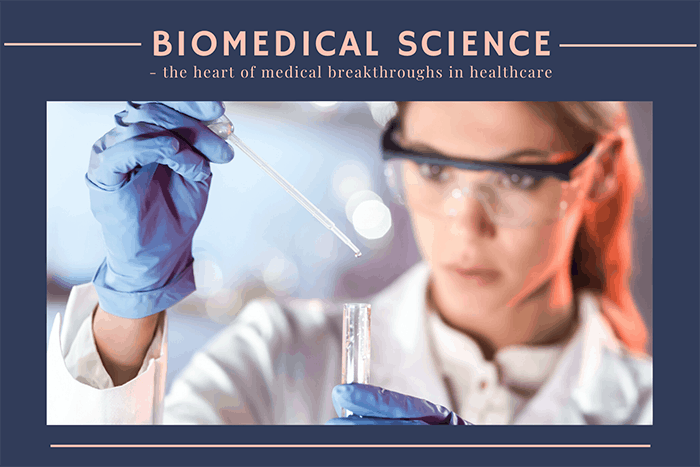 Globally, more than US$240bn is spent on biomedical research and development every year (Guardian, 2018)…

So, what is biomedical science? Biomedical Science focuses on how cells, organs and systems function in the human body; an exciting and dynamic area that is highly relevant to the understanding and treatment of human diseases. Furthermore, biomedical research drives discovery and advances our understanding of human health and disease. The research enterprise also plays significant developmental and economic roles, fuels training of the future generation of physicians and medical scientists, and creates new technologies and jobs. More importantly, breakthroughs, development and discovery of new treatments/drugs/vaccines cure diseases and treat illnesses and disabilities, contributing significantly to the healthcare and well-being of people.

Singapore has a growing biomedical sciences industry, with the biomedical sciences manufacturing sector being an important fourth pillar of the manufacturing economy. In 2016, the Singapore government committed a $4 billion budget to drive research and commercialisation activities in health and biomedical sciences. To grow the healthcare industry, the Singapore government has also outlined steps towards a future-ready healthcare system in the Healthcare Industry Transformation Map (ITM). It aims to boost the sustainability of the industry by enhancing jobs and skills, raising productivity, and catalysing innovation.

So, opportunities abound in the biomedical/healthcare industry. If you are considering a course in biomedical science, look no further than the…

UNIVERSITY OF WESTERN AUSTRALIA – Bachelor of Biomedical Science
More reasons to study biomed science?
This is a practical degree that equips you with the essential knowledge and skills to impact the health of people and populations. Totally meaningful! You will first understand how human body functions in healthy and diseased states, barriers to healthcare and methods for treatment. You can specialise in 1 or 2 of the 14 majors available. You can also combine the Biomedical Science major with a major from Arts, Commerce or Science, in line with your unique interests and career goals.

Taking you globally...  If you love to travel, you can undertake a 6 months exchange programme at one of the 180 exchange Universities /institutions overseas.

UWA Health Campus… and world-class researchers
You will be taught by world-class researchers in cutting-edge laboratories and tutorial rooms in UWA's main campus - Nedlands and at the Queen Elizabeth II Health Campus (QEII). The Queen Elizabeth II Medical Centre is the largest medical centre in the southern hemisphere.

UWA brings together heritage architecture and state-of-the art teaching and research facilities to provide you with an ideal learning environment.

Beyond your studies …
UWA is more than just a university, it is a community made up of passionate and dedicated staff, students and alumni, where students enjoy a huge array of social activities…

You can enjoy a range of recreational/sporting amenities and modern facilities, including lecture and performance theatres, and join one of the 100+ clubs.

Career Ready and Career Outcome
You have opportunities to participate in community engagement through structured visits to health organisations, voluntary work experience programs, field trips and assignments liked with the health sector.  You will also gain critical skills in laboratory practice and research.

The Careers Boot Camp provides access to industry professionals and alumni and helps you create your own brand to stand out from the crowd. You can tap on resources and tools, attend workshops and participate in hands-on activities.

The Biomedical Science degree could lead you to a career developing public health policy or designing medicines to alleviate symptoms or vaccines to prevent diseases. UWA graduates can seek employment in a range of health-related industries – research, pharmaceuticals, public health and medical technology. You can read more about UWA.

Interested??
If biomed sounds like your ideal career, make the wise move now. You can make a difference and impact the health of people and populations.

If you already know what you'd like to study, UWA's Direct Pathways combine your undergraduate and postgraduate degrees, providing you with a clearer direction to your career of choice.

If your results don't quite meet the standard entry pathway, there are still various pathways on offer so you can still apply for entry to UWA. Contact us to know how.

The University of Western Australia will be in Singapore for our AECC Global Overseas Education. This will be the best opportunity to have your questions answered.