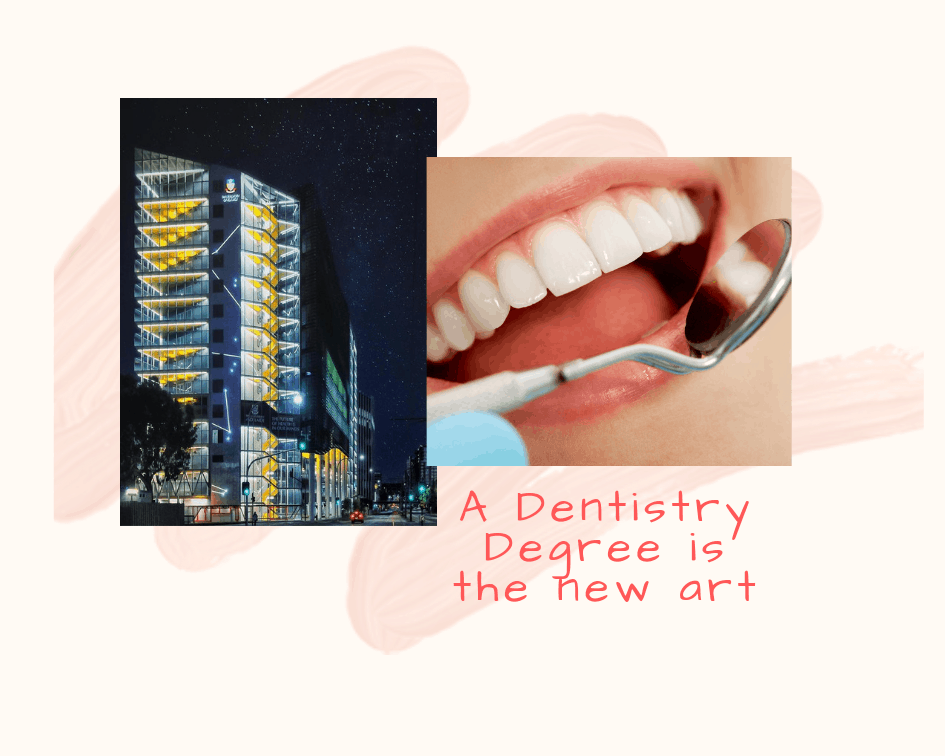 Study Dentistry in Australia
3 minutes reading time
(641 words)
[:en]I still remember way back in my childhood days, whenever I saw the dental assistant approaching near my classroom, I would always hope that my name would not be called. The dentist would always remind us about the buzzing sound and the unpleasant experience on the dentist's chair. I guess why most of us find dentist a scary human is because of our sweet-tooth in younger days which resulted in tooth-decayed. Though the dreadful thoughts, I am glad that the dentists I met over the years were all friendly and gentle, and I thanked them for my healthy tooth.

And so, I feel a good dentist should have these traits;
Attentive to detail – you will need to be able to focus on small details of patients' teeth or gums. Missing small details can mean patients don't get the right treatments.
Strong communication – you will need to know the patients' histories, oral care routines so as to give them the right advice and treatments. Of course, pre-empt your patients on what you are doing to make them feel at ease, e.g. before you inject a numbing jab.
Manual dexterity – when you work in dental hygiene, you'll need to work with sharp tools inside patients' mouths. You need to have very good control of your hands to complete treatments safely. If you're a naturally clumsy person and tend to drop things, dental hygiene may not be for you.
 
Why Dentistry in University of Adelaide…
Founded in 1874, the University of Adelaide is Australia's third-oldest university and consistently ranked in the top 1% globally and number one in South Australia. One of the three campuses, North Terrace is the University's main campus and is renowned for its historical architecture and lively atmosphere. Located in the heart of Adelaide's central business and shopping district, the campus is adjacent to the State Library, Festival Theatre, South Australian Museum, Art Gallery of South Australia, Adelaide Zoo, and Botanic Garden.

The University is recognised as a world leader in health education and research. With innovative teaching, hands-on experience and cutting-edge research, a University of Adelaide undergraduate health-related degree will equip you for a rewarding career on improving people's health and wellbeing.

The Peer Mentoring Program offers you support in your transition to university. Senior-year students will guide and assist you in meeting new people, establishing friendships and developing an understanding of the expectations and requirements of university life.

The Bachelor of Dental Surgery is a 5 years full time program with one intake yearly in February and 'clinically-intensive' to bring a lot of exposure to students.




 
What will you do?
The Bachelor of Dental Surgery supports you in becoming a highly-skilled and patient-focused dentist. You will:
Build clinical experience starting in the very 1st year
Learn in Australia's newest dental teaching hospital, in the state-of-the-art Adelaide Health and Medical Sciences building
Explore the full range of dental therapies – from complex restorative to preventive-based treatments
Practise using equipment in the Dental Simulation Client
Tackle real-life case scenarios in teams
Benefit from extensive placements across metropolitan and rural settings
Improve lives through community outreach programs
Where could it take you?
You could work in a local or community dental clinic or provide dental care for people in developing countries. You might become a defence force dentist. Perhaps you will be a researcher, making new discoveries to improve oral health care.

Quality Education
The Bachelor of Dental Surgery is accredited by Australian Dental Council and a registrable qualification with Singapore Dental Specialists Accreditation Board.

Students' experience:


Check out other popular health and allied health courses here.

Need more information on courses at University of Adelaide? Do check out on the ever-trusted education service, AECC Global for more inquiries. You can either call us or drop by at our office today for professional consultation.

 [:]
---
Related Posts
By accepting you will be accessing a service provided by a third-party external to https://www.aeccglobal.sg/