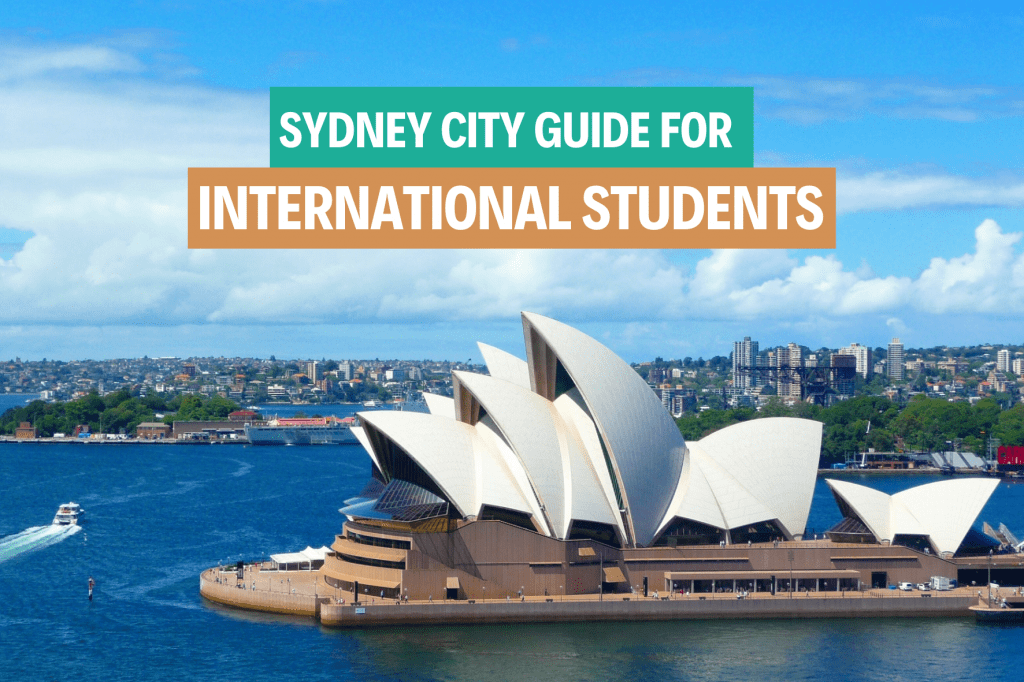 Sydney City Guide for International Students
6 minutes reading time
(1256 words)
[:en]Well to be honest, what's not to love about Australia? Sydney is home to dozens of beaches, landmarks like the Sydney Opera House and the Harbour Bridge, and world-renowned universities such as The University of New South Wales, University of Technology Sydney, Macquarie University and Australian Catholic University.

Being an international student in Sydney is not just about going to a university, studying and then going for a job after. It's also about making a home and living your life. Sydney's cultural diversity and its urban lifestyle make for a perfect destination.

Looking for adventure after class? Here are the top 10 pocket-friendly things to do while you're studying in Sydney:
First, roll out a Sydney city guide.

Planning to take a break from studies and travel to different places in Sydney? That's great!

But before you step out, it's always a good idea to get your city's travel guide. This comes in handy, as you start exploring the different places one day at a time!

Make sure to explore and discover Australia's most famous coastlines – The Bondi Beach for instance. This beach is an incredible place to go to if you're into surfing! You can also find fantastic cafes and restaurants to dine at, boutiques and stores to shop from, and plenty of other activities to keep you busy through a weekend.

You could also visit the animals at Taronga Zoo Sydney! Also, the super-popular waterside address is just a 12-minute ferry ride north from Circular Quay.

A masterpiece of 20th-century architecture, the Sydney Opera House in Circular Quay hosts more than 40 performances each week. Book tickets to Opera Australia's latest show and tick this truly iconic Sydney experience off your bucket list!

To use public transport including buses, trains, ferries and light rail in Sydney, you need to purchase an Opal card. You can purchase an Opal card from participating post offices, convenience stores and supermarkets. Just hop on a bus, train or ferry and start exploring!

Spend less, eat more! There are one too many options to choose from.
It's always a "yes" when it comes to food. If you ever have a sudden craving for spicy tom yum that doesn't compromise on flavour and heat, or a longing for a rich spicy nasi goreng, some lip-smacking Korean BBQ without the nagging feeling that you are spending too much money, Sydney is just the place for you!

The city has food from all over the world, and that too, at affordable rates! This helps international students unite over food from different cultures. After all, food is something that helps build unique bonds.

Here are some places you can check out, that offer great food at affordable prices:
Black Star Pastry: Home to the famous & instagrammable Strawberry Watermelon Cake. Feed your gram now!
Home Thai: Offers authentic Thai food with reasonable prices. Make sure you try their Phad Thai and you will go 'aroi jin-jin'!
Tenkomori Ramen: Get your ramen craving fixed together with sides of karaage chicken and takoyaki. Prices are super affordable for everyone, especially students!
Bucket list your way through places!
Do you identify yourself as a person who loves to travel and explore? If yes, make a bucket list and start ticking things off it!

Visit the famous museums and galleries in Sydney, like the Museum of Sydney, Art Gallery New South Wales (NSW), Australian Museum and much more.

There are harbour cruises that you can enjoy during the hot summer days. If you are an adrenaline junkie, jump into the popular water sports like big wave surfing, climbing the bridge to witness the breathtaking panoramic view of the city. Don't miss out on the Luna Park to enjoy some fantastic roller coaster rides as well!

Live a comfortable & budget-friendly student life.
Keeping up with a realistic budget is a good habit one can adopt as a student. You can always create some of the most memorable times while living in your second home. Here are the prices of some of the comfortable places you can rent.

The average rent for a one-bedroom apartment in the city center is currently around AUD 1,776 a month, and outside of the city around AUD 1,300 per month. The Australian Government provides a breakdown of international student accommodation in Sydney.

If you are on the way back home from university and want to stop at the grocery store, you may wonder how much money you would need. A weekly grocery bill for a person is usually between AUD $70 – $100. You could plan out your purchases accordingly.

Save some money by buying groceries at supermarkets including Coles, Woolworths and Aldi. Shopping at fresh food markets like Paddy's Market can also help increase your savings with their everyday bargains.

Be a part of Sydney's love for celebration.
As students, you're always up for fun and celebrations right? Sydney works as one big family when it comes to this. You will find the entire town coming together to celebrate the Chinese New Year or any Indian, Greek, Armenian, Brazilian or Lebanese festivals.

For all those who want to know where the fun is at, here are some of the Australian festivals that you don't want to miss.
Vivid Sydney: This festival transforms the city into a beautiful mesmerizing canvas. It is a free lighting display around The Rocks and District and Circular Quay. The event takes place over the course of three weeks in May and June.
The Rocks aroma festival, Sydney: This one-day explosion is the best festival you could ever go to! Commemorating the international trade area, the Rocks was once where all the imported goods were offloaded. People celebrate this history by having chocolates, candies accompanied by performances such as salsa, samba and more.
Carols by Candlelight: This is a very popular event that takes place around Christmas. This festival is organised in both Sydney and Melbourne every year. You can just pick up your picnic basket and chairs and head straight to watch performances of various Australian celebrities.
Australian events are all about unforgettable experiences and easygoing atmospheres, and the country's concerts and music festivals are no exception. Whether you're into indie, pop, bass, blues, rock or classical, there's an Australian music festival to fit all your fancies.

Earn, whilst you learn!
International students' life in Sydney is super exciting and filled with new things to do and new places to explore every day. But all of this enjoyment surely does come with a price tag, right?

Perks of being a student in Sydney is that you will be allowed to work 40 hours per fortnight and unlimited hours during holiday breaks. You'll not only earn more experience during your uni days but will also have some extra money to sustain through college.

Financial independence will provide you with a lot more experience to live your life after college. The earlier you act on it, the better you manage in the future!

Step into a new and exciting campus life.
The campus life at the universities in Sydney is a combination of studying as well as being a part of clubs and exciting recreational activities. Students can actively participate in theater, music, MUN and many more events and activities. Sydney is such a wonderful city to explore, learn, and grow. You get to learn to interact with people from different cultures, learn new ways of living, and make new friends. Make your plans to study at this top destination and begin your adventure in this city![:]
---
Related Posts
By accepting you will be accessing a service provided by a third-party external to https://www.aeccglobal.sg/