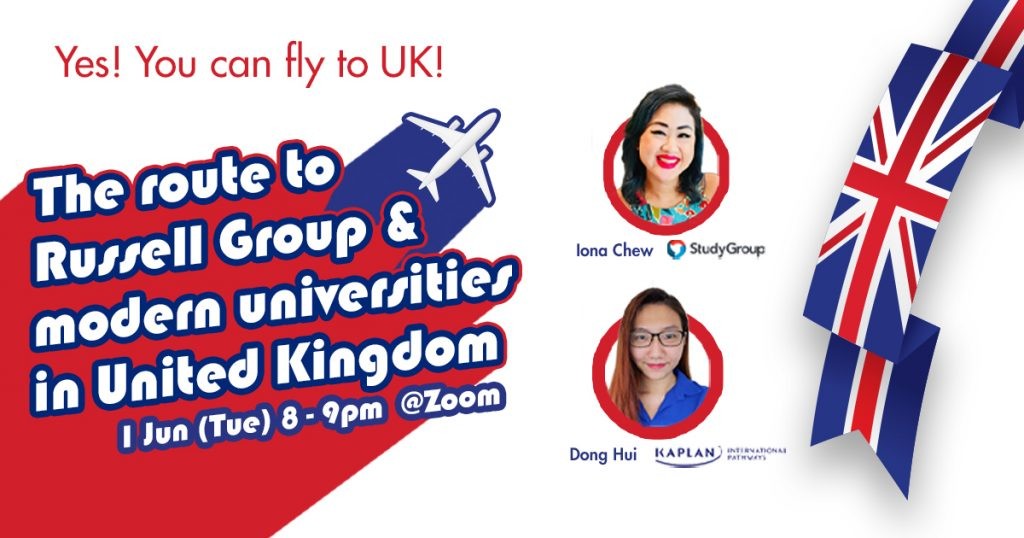 [:en]Here is your chance to find out how you can apply to the Russell Group ; Modern Universities in the United Kingdom. This event will be held on June 1st, 8 - 9 PM @ Zoom.

We've invited 2 of the most leading education pathway providers who have close partnerships with the following universities in the UK:
Russell Group Universities (11 out of 24)
Modern Universities (22)



Durham University
University of Leeds (Leeds International Study Centre)
Royal Holloway, University of London
The University of Sheffield
Queen Mary University of London
University of Birmingham
University of Bristol
University of Glasgow
University of Liverpool
University of Nottingham
University of York




Aston University
Bellerbys College
Bournemouth University
City, University of London
Cardiff University
Coventry University London
Cranfield University
Kingston University, London
Lancaster University
Liverpool John Moores University
Nottingham Trent University
University of Aberdeen
University of Brighton
University of Essex
University of Huddersfield
University of Huddersfield - London
University of Lincoln
University of Strathclyde
University of Surrey
University of Sussex
University of Westminster
UWE Bristol
As part of this virtual event, you can interact with representatives and get information on the following:
About the university and its highlights
The study route options
The difference between the foundation programme and international year 1
The entry requirements
Why and how you can choose the right pathway
ATTENTION TO ALL SINGAPOREAN STUDENTS: YOU CAN FLY TO THE UK NOW!
Those who are planning to study abroad - now is the right time for you to get started on your journey to overseas education. At present, the UK seems like an ideal destination owing to the fact that they have the highest vaccination rate against Covid-19. Singapore is now on the UK Green List for Summer, which means the UK has its border open to Singaporeans.