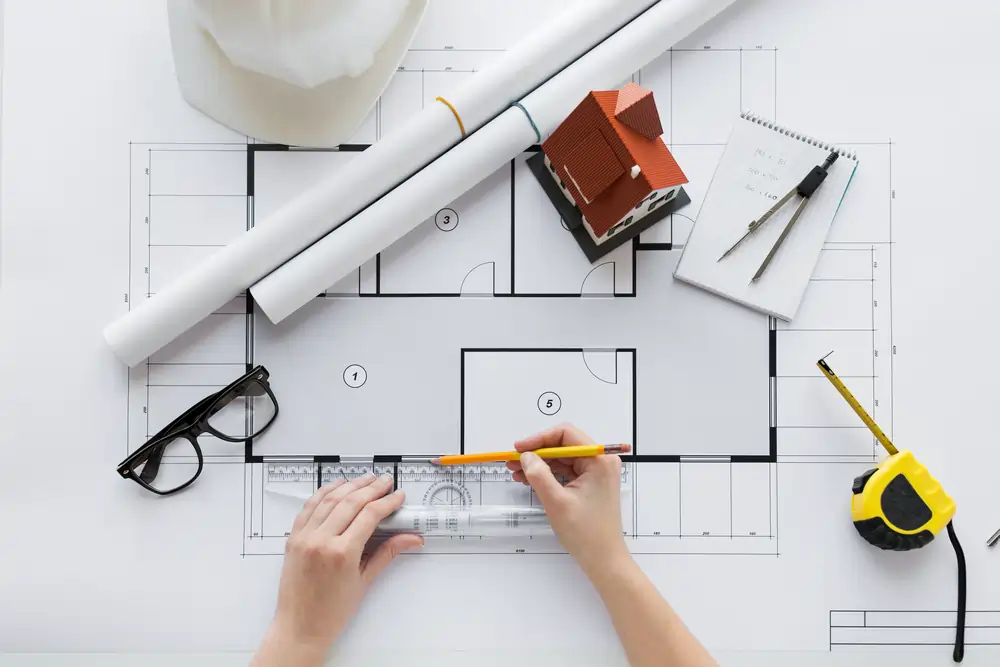 Have you ever wondered what goes into developing and constructing the structures around you? Have you ever thought about how architects build functional spcaes that are also visually appealing? If so, Architecture courses abroad may be ideal for you! Architects are extremely creative individuals who utilise their ideas and technical abilities to construct projects that suit all of their clients demands.
Architecture is one of the world's oldest and most prestigious professions. Architects, as professional designers of living and working places, have a significant effect on the quality of our built environment. They make a meaningful impact in people's lives by meticulously developing buildings that are both safe and practical, as well as attractive. It is a difficult area that demands both creative thought and technical ability.
Why Study Architecture Courses Abroad?
As an architecture student, you will have plenty of job prospects after graduation. By studying architecture degree abroad, you will learn about different design techniques and construction methods used in various countries. This international experience will give you a competitive edge when applying for jobs in the architecture field.
There are countless cultures and styles of architecture present in the world. By pursuing an architecture degree abroad, you will have the opportunity to learn about the history and culture that shape the local style of architecture. In addition, you will get to explore amazing places while gaining a first-hand education. This experience will help you develop a well-rounded understanding of design principles that can be applied anywhere in the world. You'll also learn how to think outside the box and come up with innovative solutions to problems.
When it comes to learning about architecture, there is no one-size-fits-all solution. However, taking
architecture courses abroad
may be a fantastic opportunity to immerse yourself in diverse cultures and learn new skills. By immersing oneself in another country's architectural landscape, you will be exposed to fresh ideas and viewpoints. You may also have the option to study architecture history and philosophy, as well as sustainable design ideas. In addition, in studio sessions, you will gain hands-on expertise with building processes.
S.no
Courses
Duration
Requirement
1.
Bachelor's
3 to 5 years

Successful completion of 12th grade / pre-university studies.
Required minimum score in English test.

2.
Master's
2 years

Successful completion of bachelor's degree in Architecture or in a relevant field.
Required minimum score in English test
University of Illinois at Chicago
Colorado State University
Illinois Institute of Technology
New Jersey Institute of Technology
Suffolk University
Kent State University
University of Mississippi
Career Prospects and Scope of Architecture Abroad
A career in architecture can provide you with many opportunities to use your creativity and problem-solving skills; also, it's a challenging and rewarding career. Due to the rising amount of new building projects, it is a field that is in great demand all around the world. By studying architecture courses abroad, you will gain the necessary skills and knowledge to be successful in this competitive field.
List of Architecture jobs:
Architect

Urban Designer 

Landscape Architect

Interior Designer

Heritage Conservationist

Furniture Designer

Project Manager

Architectural Historian

Architectural Researcher

Commercial Architect

Digital Designer 

Building Consultant
Best Countries to Study Architecture
If you're looking for top-ranked universities to study architecture abroad, look no further than these top study destinations! You'll be able to choose from a variety of courses to suit your needs, and you also have the option to divert from your original course and embark on a new and fascinating adventure! Education isn't the only thing you'll gain from these experiences, you'll also come away with a new perspective, a sense of adventure, and a renewed passion for learning.
Best Universities to Study Architecture
There are many great universities to study Architecture abroad and work in this field after graduation. We have selectively chosen a few such institutions, and it is worth noting that an Architecture degree obtained from any of these universities is widely acknowledged on a global scale.
University of the West of England
University of Plymouth
Queen's University Belfast
The University of Auckland
Victoria University of Wellington
Curtin University
University of South Australia
University of Newcastle
University of Tasmania
Head to us if you want to acquire more in-depth information about these study destinations, the best countries to study in, or the best universities to attend.
Frequently Asked Questions
Which country is best to study for an Architecture degree abroad?
The United Kingdom, United States, Australia, and New Zealand are some of the top study destinations to pursue your Architecture degree abroad. These countries provide enriching education and are home to top universities for Architecture. Architects are in high demand, and these countries provide the ideal opportunities for your career.
What are the available courses that can be taken to pursue a career as an architect?
What is the annual fee for architecture courses abroad?
Is it good to study Architecture abroad?
What are the subjects covered in an architecture degree abroad?
What can I do with a bachelor's degree in Architecture?
How to apply for an architecture degree abroad?
We See Your Potential and Help You to Study Architecture Abroad That Adds Significant Value to Your Future.
Our international education counsellors proactively guide and support the international students in choosing the top-ranking universities and the best courses to achieve their career goal. We make sure our students are provided with personalised support when applying to study Architecture Abroad.
To get in touch with our expert team, simply leave your details below and we'll call you for a FREE consultation.

LAM'AAN LATHEEF , MALDIVES,
THIRU JASMI, KLANG VALLEY,
PEE HUI HAN, KLANG VALLEY,
YEE HAOW KHOO, KLANG VALLEY,