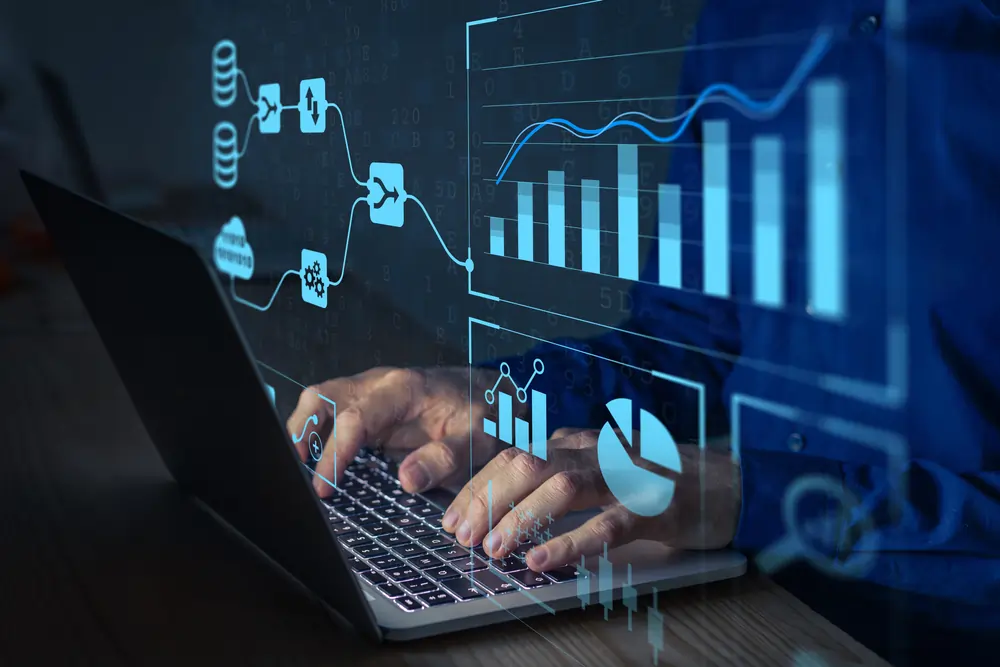 Data Analytics Course Overview
Data is like the heart of almost all organisations, businesses and even in an individual's daily life. Data is crucial for organisations and businesses to make sound decisions to deepen their footprint in the industry. Organisations determine their next step by interpreting data, to be more stable and prepared with their strategies and agendas to move ahead in the competition. Choosing to pursue a Data Analytics course can never let you down in terms of being content with your career trajectory, as data is prevalent across all industries and departments of businesses for you to flourish and grow.

Data Analytics is not just about analysing and interpreting data – it also includes collecting, structuring and managing data to provide insights on the company's decisions, objectives and actions to move forward in the game of business.
Why study Data Analytics abroad?
Data Analytics is a newly emerged field in the past few decades, with more and more value and demand being added to the discipline. Zeroing out the perfect country abroad for pursuing a data analytics course is a highly sought-after option by many Singaporean students, for the valuable educational experiences that the universities in popular study destinations offer.

Universities abroad have a wide range of Data Analytics courses in order for you to have unlimited choices in picking the right course for yourself. Studying data analytics abroad is also a great way to explore and understand different patterns of different businesses and organisations when it comes to using data to drive their core purpose of growth and expansion. 

The global approach of studying data and using them to function strategically to advance businesses and industries will help you gel with the work once you complete your course. The seminar sessions by industry experts, the workshops that strengthen your data management and programming skills, and the group projects and assignments will all act as an instrument to mold you into being at par with the industry standards.

Other perks of studying Data Analytics course abroad:
Chance to boost your employability.

Chance to build connections with people of different backgrounds.

Working closely with industry experts as part of training, projects and internships.

Exposure to the practical work that goes behind the field of data analytics.
Here is a list of core areas that you will get to explore:
Introduction to

Data Analytics

Machine learning

Algorithms

Programming

Statistics

Data visualisation

Forecasting analysis

Data structure

Data mining

Data ethics
Requirements to Study Data Analytics Courses Abroad
Proficiency in English language is a must in most of the popular study-abroad destinations. So you are required to pass any one of the English proficiency exams such as the TOEFL, IELTS, PTE, etc., depending on the requirements of the university you choose.

Check the table below to understand the other requirements and duration of different Data Analytics courses abroad:
| S.no | Courses | Duration | Eligibility |
| --- | --- | --- | --- |
| 1. | Bachelor's | 3 to 4 years | Required to complete the pre-university course with a decent score in maths. |
| 2. | Master's | 1 to 2 years | Required to complete a bachelor's degree in a relevant field. |
| 3. | Phd | 3 to 4 years | Required to complete a master's degree in a relevant field. |
University of Illinois at Chicago
Colorado State University
Illinois Institute of Technology
New Jersey Institute of Technology
Suffolk University
Kent State University
University of Mississippi
Career Prospects and Scope of Data Analytics Abroad
The world has witnessed huge technological advancements over the years across different fields. This makes a career in Data Analytics, especially in this era, more promising and rewarding, where businesses are rigorously competing against one another to carve a spot at the top of their industries.

With the large amount of data being churned out by industries and businesses, the need for those with logical and statistical skills to break down the huge, chunky data to redefine business strategies and improve the marketing and management decisions of businesses is growing.

Choosing to enroll yourself in a Data Analysis course might turn out to be the perfect choice if you are someone with the utmost fascination for data and using data trends to provide resourceful insights to overcome business challenges. As the industry of Data Analytics is expanding, more and more opportunities are emerging for those with the potential to fill in the spots to help businesses succeed in the global market.

Possible career paths with Data Analytics course:
Data engineer

Data scientist

Financial analyst

Quantitative analyst

Data analyst 

Market analyst

Analytics manager

Data architect

Data analyst consultant 

Statistician
Best Study Destinations for Data Analytics
Being cautious while picking the right place to pursue your study abroad dreams is extremely important, as the way your life would shape up further depends entirely on that.  Education shouldn't be imposed on students with long and boring lectures day in and day out – rather, learning should excite students and drive them to strive for excellence in their respective fields. So, it is important that you choose from the top study destinations which offer effective study modules and teaching approaches to bring out the best in students.

Here is a list of top countries to study Data Analytics courses abroad:
Frequently Asked Questions
What are the basic skills needed for data analytics?
With each passing year, the field of Data Analytics is expanding and is looking for those with the right set of skills to work seemingly in the changing landscapes of this fierce field. 
Here is a set of skills highly demanded to enter the field of Data Analytics:
Data visualisation

Data management

Econometrics

Statistical programming

Machine learning
Is data analytics a difficult course?
Which Data Analytics courses are best?
Is Data Analytics full of coding?
What are the best universities to study Data Analytics courses?
We see your potential and help you to study Data Analytics Abroad that adds significant value to your future.
Our international education counsellors proactively guide and support the international students in choosing the top-ranking universities and the best courses to achieve their career goal. We make sure our students are provided with personalised support when applying to study Data Analytics abroad.
To get in touch with our expert team, simply leave your details below and we'll call you for a FREE consultation.

LAM'AAN LATHEEF , MALDIVES,
THIRU JASMI, KLANG VALLEY,
PEE HUI HAN, KLANG VALLEY,
YEE HAOW KHOO, KLANG VALLEY,