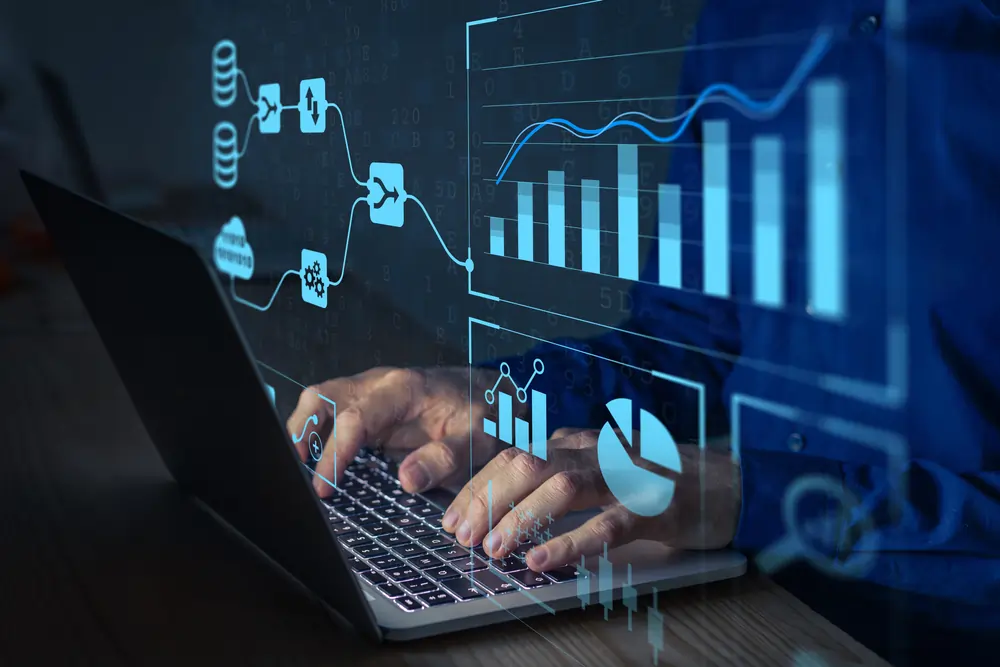 Data Science Course Overview
With the large amount of data being churned out every now and then, it is understandable that businesses are demanding for people well versed with everything and anything that has to do with data. With a degree in data science in your kitty, you can expect yourself to be challenged, rewarded and excited as part of your job.

A data scientist will observe the past data trends to stabilise the present data pattern for the better and to further work towards incorporating better strategies in the future for the company. A data science course will train you with the skills to confidently step into different sectors such as marketing, retail and banking. 

A data science course will help you collect, process and analyse data to bring in valuable insights to improve the decision-making and customer interaction of the business. You will come out not only as a graduate with the best of technical and statistical skills, but also with a business sense to work your way to the top.
Why Study Data Science Abroad?
A data science course abroad will help you consider the global perspective of processing data and understanding data privacy around the world. One thing that appeals to most students about studying data science abroad, is the diverse set of courses that universities offer under data science to help students cater to the industry demand.

You will be pushed to think rationally and make collaborative efforts to bring the best of ideas and insights to the table. These will build you to be industry ready as the demand for data scientists comes with fierce competition. You will be working on different projects and will get the opportunity to work closely with industry experts during training sessions and workshops, giving a boost to your resume in terms of experience and knowledge about the industry. With a higher level of computing, technical and programming skills, you will find yourself being confident, each time your knowledge and skills are put to test. 

With the rapid evolution of technology, universities abroad are trying to up their game by exposing students to the advanced and modern methods of artificial intelligence as well as data science to seemingly work with AI and algorithms after the completion of the course. Some universities also make a conscious effort to have fewer students in a class to ensure that the students are receiving enough support from the tutor individually.

Here is a list of core areas that you will get to explore:
Foundations of data science

Foundations of machine learning

Foundation of artificial intelligence

Computational data science

Algorithms and data structures

Data visualisation

Maths and statistics

Applied machine learning

Programming
Requirements to Study Data Science Courses Abroad
Proficiency in English language is a must in most of the popular study-abroad destinations. So you are required to pass any one of the English proficiency exams such as the TOEFL, IELTS, PTE, etc., depending on the requirements of the university you choose.

Check the table below to understand the other requirements and duration of different Data science courses abroad:
| S.no | Courses | Duration | Eligibility |
| --- | --- | --- | --- |
| 1. | Bachelor's | 3 to 4 years | Successful completion of the pre-university with a decent score in maths. |
| 2. | Master's | 1 to 2 years | Successful completion of bachelor's in a relevant field. |
University of Illinois at Chicago
Colorado State University
Illinois Institute of Technology
New Jersey Institute of Technology
Suffolk University
Kent State University
University of Mississippi
Career Prospects and Scope of Data Science Abroad
The need for data scientists is growing across different industries, making it one of the most sought-after streams to pursue for a stable and secure future. Data is prevalent in all industries, which makes companies and organisations seek help from those who can make sense of a large amount of data for a better understanding of the market demand.

Here are the industries with high demand for data science:
Retail

: Understanding customer needs is the most important thing for a retailer to attract customer attention and to give a tough competition to their competitors. Studying big data and analysing data patterns is needed in the retail industry to draw insights for customer satisfaction. This makes

data science

a much needed aspect for growth in the retail industry and widens the scope for a data scientist in this field.

Media and Entertainment

: With the digitalisation and modernisation, have come high consumer demand for relevant and valuable content on different platforms as well as devices. This has opened room for data scientists to fill in the gap between the media and the audience by collecting and analysing consumer data to better the services and content approach. Companies are looking for someone with a

data science

background to closely study consumer consumption and usage data patterns to understand the content's performance and to produce targeted content according to the demand and relevancy. 

Banking

: Banking enters this list because of the fusion of finance and technology. It is safe to say that

data science

is widely demanded in the banking industry for the statistical and programming skills to better customer experience and service. The data-driven decision-making of banks and the finance industry makes

data science

one of the most relevant and highly demanded fields of this digital age.
There are other industries with high demand for data science as well, such as healthcare, telecommunications, agriculture, education, oil and gas industry and much more.

Possible career paths with Data Science course:
Data scientist

Data analyst

Business analyst

Financial risk analyst

Data manager

Data administrator

Data engineer

Machine learning engineer

Business intelligence (BI) developer
Best Study Destinations for Data Science
You have so many exciting options to choose the perfect university to study data science abroad. And there are some of the most popular study destinations with top universities offering data science courses.
Frequently Asked Questions
Best universities to study data science?
The University of New South Wales (Australia)

The University of Sydney (Australia)

University of Essex (UK)

University of Portsmouth (UK)

University of Auckland (NZ)
Can a data scientist become a data analyst?
Is three months enough for data science?
Is data science high paying?
Which countries have high demand for data scientists?
We see your potential and help you to study Data Science Abroad that adds significant value to your future.
Our international education counsellors proactively guide and support the international students in choosing the top-ranking universities and the best courses to achieve their career goal. We make sure our students are provided with personalised support when applying to study Data Science abroad.
To get in touch with our expert team, simply leave your details below and we'll call you for a FREE consultation.

LAM'AAN LATHEEF , MALDIVES,
THIRU JASMI, KLANG VALLEY,
PEE HUI HAN, KLANG VALLEY,
YEE HAOW KHOO, KLANG VALLEY,