Authorised education agent for: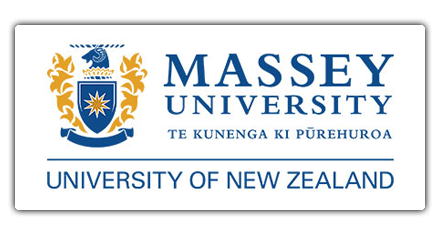 TOP 3% OF UNIVERSITIES WORLDWIDE
QS WORLD UNIVERSITY RANKINGS 2020
Massey University is an innovative, self-reliant, outward-facing institution committed to defining our future. Massey's students can expect a teaching and learning environment that will enable them to be creative, connected and innovative contributors to society. Massey is a research-led university that is committed to the application of knowledge.
Massey is truly the 'University of New Zealand'. The only multi-campus university in New Zealand, we have 36,000 students in total, including our distance learning students. Founded more than 80 years ago, Massey have been breaking new ground in all areas of expertise including: business, creative art, health, science and humanities and social science.
#556 in Best Global Universities
#33 in Best Global Universities in Australia/New Zealand
#6 in Best Global Universities in New Zealand
Agriculture Related


AgriCommerce
Horticultural Science
Agricultural Science



Animal Related


Veterinary Science
Veterinary Technology
Zoology
Animal Science


Creative Design Related
Animation
Art
Design
Fashion
Film
Illustration
Music
Photography
Product
Spatial
Textiles
Visual communication
VFX
Immersive Media


Health Science
Psychology


Aviation
Aviation Management


| | | |
| --- | --- | --- |
| Scholarship Name | UG / PG | Value (NZD) |
| College of Humanities and Social Sciences International Excellence Scholarships | UG / PG | Up to $20,000 (UG) / Up to $10,000 (PG) |
| Massey Business School International Student Study Awards | UG / PG | Up to $15,000 (UG) / Up to $10,000 (PG) |
| School of Food & Advanced Technology First Year Undergraduate Scholarship | UG | $3,000 for 1 year |
| Massey University International Student Excellence Scholarships | UG | Up to $30,000 |
Study Indicators
Tuition Fees:
$$

$$$
Living Cost:

$$

$$$
*The chart indicator serves as a general guide. Please refer here for more info about studying in New Zealand. For more detailed consultation, please contact AECC Counsellors.
Massey University Subject Rankings
Top 100
Agriculture
Veterinary Science
Art & Design
Development Studies
Top 250
Accounting & Finance
Business & Management
Psychology
Communication and Media Studies
Economics and Econometrics
Education and Training
Environmental Studies
Geography
Sociology
Tips for Studying Abroad
Things you should understand for studying abroad!
Tip: 1
Choose the University that Suits You Best
Tip: 2
Rankings Are Not the Most Important Factor
Tip: 3
Choose the Course You Are Truly Interested In
Tip: 4
University Facilities Are Important
Tip: 5
Things to Be Aware Of (Part 1)
Tip: 6
Things to Be Aware Of (Part 2)
Tip: 7
Message for Undergraduate Seekers
Tip: 8
Message for Master Students
Tip: 9
About Study in Australia
For general information about studying in New Zealand 
click here
. Or for more detail discussion / consultation such as (tuition fees, cost of living, intakes, entry requirements, admission..), please reach out to us via the enquiry form below. 
AECC Free Consultation Services
Destination Guide
Where to go?

University Recommendation
Which university suits me?

Courses & Programmes
What should I study?
Application & Admission
How to apply to the university?
Student Visa Application
How to secure my student visa?
Insurance
Get protected while studying abroad.
Student Accommodation
Where to stay?
We see your potential and help you to study at Massey University that adds significant value to your future.

Our international education counsellors proactively guide and support the international students in choosing the top-ranking universities and the best courses to achieve their career goal. We make sure our students are provided with personalised support when applying to study at Massey University.
To get in touch with our expert team, simply leave your details below and we'll call you for a FREE consultation.

LAM'AAN LATHEEF , MALDIVES,
THIRU JASMI, KLANG VALLEY,
PEE HUI HAN, KLANG VALLEY,
YEE HAOW KHOO, KLANG VALLEY,