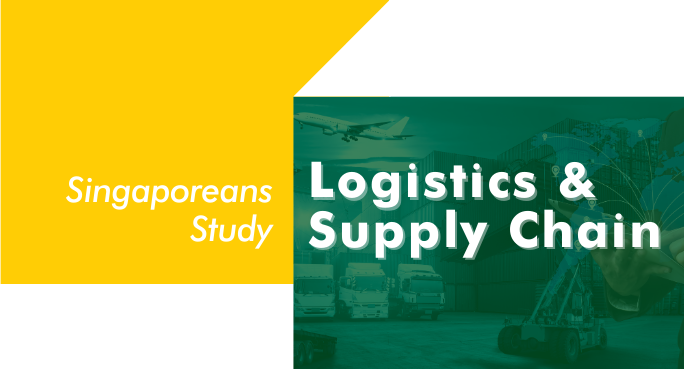 [:en]In this week's Singaporeans Study series, our field of focus is Logistics and Supply Chain Management. 
Are you ready to learn? Let's get started. 
1. What is Logistics and Supply Chain Management and why is it significant today?
According to John J. Coyle et al, logistics can be defined as getting the right product, to the right customer, in the right quantity, in the right condition, at the right place, at the right time and at the right cost. The process includes customer service, purchasing of required goods, production planning, warehouse management and transportation.  Supply chain management goes hand-in-hand with logistics. It is the coordination of production, inventory, location and transportation of goods and services in a supply chain to effectively deliver products for the market being served.  
At present, the logistics and supply chain management sector is playing a significant role in the transportation of the Covid-19 vaccines. Did we mention that there are many SOPs needed for this? For instance, Pfizer's vaccine has to be stored at subzero temperatures and not all medical facilities might be able to afford the necessary equipment. To combat this issue, Pfizer has built a thermal shipper that can store the vaccines ultra-cold for as long as 10 days. Yes, logistics isn't only about delivering things.
2. What are some of the important skills that one must acquire to become proficient in this field?  
Have expert cost accounting skills

Develop your knowledge of cross-cultural and global issues

Focus on building your time management and project management skills. 

Improve your analytical and communication skills 
3. What should one study to specialize in this field?
Here are a few universities that offer specializations in logistics and supply chain management: 
University of Sydney (Australia): USYD ranked #1 in Australia and #$ in the world for graduate employability, this university offers Graduate Certificate, Diploma and Masters courses in this field.
University of Waikato (New Zealand): You can take Graduate Certificate courses, Diploma and Bachelor programmes. Students taking up these courses can expect to find career opportunities as operations manager, logistics architect, supply chain systems manager, procurement management and supply chain manager.
University of Plymouth (UK):  The university has a separate department for the field of logistics and supply chain management. The university has partnered with The Chartered Institute of Logistics and Transport, the membership organization for professionals leading supply chain operations. Students pursuing courses in this field at Plymouth can expect to graduate with the essential skills necessary to enter the dynamic shipping and logistics industry.
4) What does the future of logistics and supply chain management look like? 
With the growth of digital networks, this sector is expected to become more transparent and visible in the future.  According to an article in the Harvard Business Review, 37% of all jobs are in the supply chain management sector. Studies also show that in the future, every supply chain management graduate will have around 6-9 jobs available after completing their education. These data show that this sector has a wide scope both at present and in the future. 
5) What is the status of logistics and supply chain management in Singapore?
Amid the global pandemic, supply chains around the world, especially the pharmaceutical sector, are facing hurdles in transportation and delivery of pharmaceutical products. Despite the challenges posed by the pandemic, the sector has seen a great improvement coming both in and out of Singapore. In October, the sector raised its 2020 earnings guidance range to between USD 4.8 billion and USD 5.1 billion - from USD 4.1 billion to USD 4.4. billion.
Currently, there are over 1300 jobs available in the logistics sector in Singapore. Even amid the global pandemic, Singapore has managed to strengthen its status as a global logistics hub, keeping itself open to trade even as global supply chains are disrupted. At present, it employs over 86,000 workers in more than 5300 enterprises. The logistics sector has become a key contributor to Singapore's economy and it contributed around $6.8 billion or 1.4% of Singapore's GDP in 2019.
If you are wondering which field of work would best suit your passion, join our "SG Study Abroad Virtual Fair" on February 27th, 2021 from 01:00 PM - 05:00 PM.
Get a 1-1 consultation with over 70 universities and pathway colleges from Australia, New Zealand and the UK.
Book Your Appointment Today
[:]