Authorised education agent for: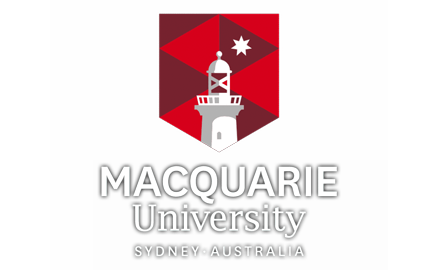 CRICOS Provider Code 00002J
Recognised internationally, Macquarie University is consistently ranked in the top two per cent of universities in the world* and within the top 10 in Australia*.
Macquarie University's research is leading the way in ground-breaking discoveries. The academics are at the forefront of innovation and, as accomplished researchers, and they are embracing the opportunity to tackle the big issues of our time.
Top 1%
QS World University Rankings 2020 & 
Times Higher Education World University Rankings, 2021
1st in Sydney, 98th Worldwide
QS Graduate Employability Rankings, 2022
3 Top 50 & 7 Top 100 Subjects
QS World University Rankings by Subject, 2021
Over 150 Universities Partners
Student Exchange to more than 40 countries
Over 30K Works Placement
PACE (Professional & Community Engagement) partnerships
Over 300 Industry Partners
Internships & Job Opportunities
These study areas are favoured by students for both undergraduate and postgraduate programs. Macquarie University is renowned for it's first-class facilities, our highly skilled graduates, and our excellence in interdisciplinary research and teaching. Here are some of the popular study area that you can consider:
Business
Actuarial Science
Business
Analytics
Professional Accounting
Information Technology
Cybersecurity
Data Science
Information System
Business Analysis
Game Development
Health & Human Science
Chiropractic
Clinical Science
Psychology
Human Science
Bachelor of Actuarial Studies

Actuaries specialise in applying mathematical, statistical and financial analysis to business, finance and insurance. Actuaries advise government, financial institutions and other organisations on financial management, risk management, product design and complex transactions.

They are key to helping financial institutions and other businesses all over the world to prosper. In this professionally accredited course, you'll learn how to apply mathematical, statistical, economic and financial analysis to a range of practical problems in long-term risk management, finance and insurance.

You'll complete part, or all, of the Foundation level and the university component of the Associateship level professional qualifications of the Actuaries Institute, subject to demonstrating superior academic performance in the relevant units.

You'll undertake a range of units in actuarial science, statistics, finance and economics.
You'll have the opportunity to complete a capstone unit.

Macquarie is recognised as a Centre of Actuarial Excellence by the Society of Actuaries.

Accreditation
This course is accredited by the Actuaries Institute
Bachelor of Business Analytics

World Top #150 (Business & Management Studies)
The world is undergoing a data revolution each day where 2.5 quintillion bytes of data are created or replicated. Big data has become big business, and individuals with the ability to extract value from these data sources are in demand across the globe.
Developed and refined in consultation with industry so content is always current and relevant, this course equips you with the knowledge and skills to help businesses better understand their consumers, innovate, reduce their risk and maximise opportunities.
In-depth training in multiple disciplines provides you with qualitative skills (graphic presentation and information communication), quantitative skills (modelling and statistics), computing skills (business information/intelligence systems and programming) and business training (accounting, business analytics, forecasting and management).
You'll gain the broad-based training you need to appeal to a variety of potential employers.
You'll acquire an integrated body of core technical knowledge relating to business analytics and information systems, and their applications within a business environment.
Bachelor of Business Administration

Top Course (Flexible Unit Choice)
In today's globalised world, where competition among businesses is at an all-time high, there are very few careers in which a comprehensive knowledge of business isn't revered. The best business administrators are equally talented at managing numbers as they are at managing people - they're leaders, strategic thinkers, creative problem solvers and innovators.
Studying Business Administration at Macquarie will allow you to develop your skills in accounting, business, ethics, management, marketing and strategy, all of which are key competencies you'll need to succeed in today's dynamic global business environment.
You'll develop a broad skill set suitable for a range of roles with national and multinational organisations.
Flexible unit choices allow you to follow your interests.
You can combine this course with another to focus on areas, such as accounting, law or organisational psychology.
You'll have opportunities to get real-world experience with leading Australian organisations through internships, as well as the option of studying overseas with partner universities.
Bachelor of Chiropractic Science


This course - the longest-running in Australia - will prepare you for a rewarding career in one of the largest primary health professions. When you combine it with the Master of Chiropractic, you'll be equipped to work in private practice, chiropractic sports medicine, allied health areas, health insurance assessment, medico-legal advising, work health and safety, rehabilitation and research.
This course offers training in a wide range of diagnostic and chiropractic manipulative skills in the context of anatomical, physiological and biomedical sciences.
It provides the prerequisite academic background to enable you to apply for entry into the Master of Chiropractic, which is required for professional registration within Australia.
The Bachelor of Chiropractic Science and Master of Chiropractic were the first professional chiropractic degrees to be offered by a public university in the world.
Learn how to use a range of diagnostic tools, including patient interviews, physical examination and X-rays.
Clinical placements form part of the degree, both in University teaching clinics and in structured visits to other facilities.
Access to our world-class anatomy labs.
Bachelor of Clinical Science


Improving lives and contributing to healthier communities is one of the most rewarding things you can do. A career in medicine or health as a doctor, physiotherapist, medical researcher or other health professional is exciting and dynamic, and provides an opportunity to make a real difference.
This innovative and fast-tracked course focuses on human clinical sciences and builds the foundational professional skills you'll need for a career in medicine, allied health or medical research.
This course is the ideal preparation for Macquarie's Doctor of Medicine (Macquarie MD) – or other graduate-entry medicine program – as well as for further study in physiotherapy or for a career in a range of health and medical professions or research.
You'll get to your career goal sooner by fast-tracking your studies – complete your bachelor degree in two years instead of three by using additional sessions in the summer and winter breaks.
You'll have the option to receive targeted preparation for medical school admissions tests and interviews.
You'll build practical technical skills using the latest simulation technology and through working with human anatomical specimens.
You'll learn in an environment that is home to Macquarie University Hospital – Australia's first and only private, not-for-profit hospital on a university campus.
You'll have the opportunity to undertake work experience in a healthcare setting or medical research facility.
Bachelor of Psychology


This degree will provide you with a scientific understanding of the psychological processes that underlie behaviour. You'll get exposure to a wide range of fundamental psychological concepts, as well as to more specialised areas such as child psychology, neuropsychology, social and personality psychology, health psychology, organisational psychology, cognition and perception, and psychopathology.
Skills gained in the collection, evaluation and critical analysis of data will enhance employment opportunities in all fields and industries.
You'll have the opportunity to partner psychology units with science and social science units, allowing you to learn how psychological practice and theory are deeply rooted in scientific evidence and how that evidence is obtained through research.
In the 3rd year, you'll have the opportunity to gain relevant workplace experience in a professional or community setting that's relevant to psychology.
A key feature of this degree is the capstone unit you'll undertake in your third year, which will provide you with skills to seamlessly transfer into the workplace.
Your learning will be enhanced by our outstanding health precinct facilities, including the Australian Hearing Hub, the Simulation Hub and Macquarie University Hospital.
This degree is accredited with conditions by the Australian Psychology Accreditation Council.
Macquarie is ranked among the top 100 institutions in the world and third in New South Wales for psychology (QS World University Rankings by Subject, 2018).
Macquarie is ranked number one in Sydney for overall employability in psychology (QILT, 2017).
Cyber Security


Macquarie's Cyber Security major provides you with the knowledge you need to create an effective cyber security environment for commercial, private and industrial applications. It combines units from the Department of Computing with those from Security Studies and Criminology to give students practical insights into technology risks and countermeasures and the role that security management plays in the bigger picture of cyber governance.
This course meets the standard for the professional level of the Australian Computer Society.
The Cyber Security major provides you with the knowledge you need to create an effective cyber security environment for commercial, private and industrial applications.
You'll undertake a project in your final year to practice your knowledge and skills in a software development life cycle.
Your learning is enhanced by the location in one of Australia's leading high-tech precincts
Data Science


Data scientists work on data sets to extract knowledge and identify patterns in order to predict trends. They work at the boundaries of information technology, mathematics and statistics, employing techniques and blending processes from each of these disciplines.
Completion of this major will equip you with the strong computing, numeracy and analytical skills needed to prepare you for a successful career in the burgeoning world of data science.
You will develop the ability to extract, process and analyse data sets, including Big Data - data sets too large for traditional data processing techniques.
You will partner with industry to complete a final-year, real-life capstone project, ensuring you gain work-ready skills upon graduation.
Skills gained will equip you for a wide variety of careers in information technology and data analysis, across many industries whether in corporate, government or not-for-profit sectors.
Information Systems and Business Analysis


The Information Systems and Business Analysis (IS & BA) major is a cross-disciplinary major that aims to provide graduates with the necessary skills to pursue a career in Business Information Systems. Such a career requires the graduate to understand a wide range of areas related to information systems, information management, and information technology (IT) from both business and IT perspectives.
Students develop skills and experience in information creation, storage, retrieval, quality and management in an organisational context.
Students also will develop the ability to apply skills to both structured and unstructured problems, which is achieved through the application of concepts to real-world problems and engagement with their peers, both individually and in groups.
Game Design and Development
Angry Birds. Candy Crush. Minecraft. Call of Duty. Grand Theft Auto. Thanks to each of these, the gaming industry today is worth billions of dollars. And thanks to the proliferation of handheld devices, gaming is more accessible than ever before – with people of all ages, genders and backgrounds able to get their game on.
With a thorough grounding provided in software design and development, as well as specialist units that critically appraise video games as designs and cultural media products, this degree will equip you with the skills you'll need for a successful career designing and creating the next wave of popular video games and virtual worlds.
KEY FEATURES
You'll study all aspects of video games – design, development and appreciation – while gaining broad programming and software engineering skills and knowledge.
The mix of theoretical and technical components will prepare you to use current technologies and adapt to, and create, new technologies in the workforce.
You'll solve a real-world problem in your final year, which will bring all your learnings together and further prepare you for a successful start to your career.
This is the only university degree available in video games in New South Wales that combines technical skills with a critical understanding of video games.
Your learning will be enhanced by our location in one of Australia's leading high-tech precincts, which is brimming with collaborative, internship and employment opportunities.
Macquarie is ranked number one in Sydney for overall graduate employment in information technology (QILT, 2017).
Study Indicators
Tuition Fees:
$$$

$$
Living Cost:
$$$$

$
MACQUARIE PARK INNOVATION DISTRICT
Macquarie University is a key partner in the 
Macquarie Park Innovation District
 (MPID) – Australia's premier innovation hub. Home to 
Macquarie University Hospital
 and more than 180 large international organisations and 200 small businesses, the vibrant technology park is set to transform the way collaboration and innovation are catalysed.
What better way to connect with future employers in some of the country's leading organisations than by studying alongside them. With access to MPID's incubators, innovation spaces and a dynamic events program, Students will be in a prime position to network with some of the best entrepreneurial minds.
The Campus
Uniquely located in the heart of Australia's largest high-tech precinct, Macquarie brings together more than 45,000 students in one thriving hub of discovery. The area spans 126 hectares, with more than $1 billion has been invested on facilities and infrastructure.
Tips To Study Abroad
Things you should understand for studying abroad!
Tip: 1
Choose the University that Suits You Best
Tip: 2
Rankings Are Not the Most Important Factor
Tip: 3
Choose the Course You Are Truly Interested In
Tip: 4
University Facilities Are Important
Tip: 5
Things to Be Aware Of (Part 1)
Tip: 6
Things to Be Aware Of (Part 2)
Tip: 7
Message for Undergraduate Seekers
Tip: 8
Message for Master Students
Tip: 9
About Study in Australia
AECC Free Consultation Services

Destination Guide
Where to go?

University Recommendation
Which university suits me?

Courses & Programmes
What should I study?

Application & Admission
How to apply to the university?

Student Visa Application
How to secure my student visa?

Insurance
Get protected while studying abroad.

Student Accommodation
Where to stay?
To get in touch with our expert team, simply leave your details below and we'll call you for a FREE consultation.