Authorised education agent for:

#16 BEST MODERN UNIVERSITY IN THE WORLD
QS Top 50 Under 50 Rankings 2020
Why Choose University of Canberra?
As a young university, UC is ranked number one in: graduate employment, teaching quality and student satisfaction. All UC courses are fast-moving and future proof and have been designed to adapt to changes in the industry at a moment's notice. This approach coupled with one of the largest work-integrated learning (WIL) projects in the history of Australia higher education will give you exclusive access to internships and professional networks throughout Australia.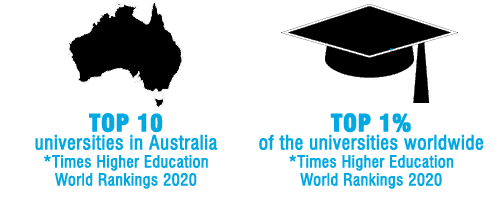 The aim of the Bachelor of Accounting is to produce highly competent, work-ready graduates with an in-depth discipline knowledge, and the technical skills needed to work as socially responsible accounting professionals across the private and public sectors.
Through a mix of theoretical knowledge and interdisciplinary real-world learning experiences, you'll develop expertise in communication, networking, cross-cultural awareness and teamwork. This will enable you to become an agile professional with diverse employment skills which are transferable across a range of different sectors. You'll graduate as a critical thinker with solid collaborative experience, and will be qualified to undertake professional study programs with both the Chartered Accountants of Australia and New Zealand and CPA Australia.
Study a Bachelor of Accounting at UC and you will:
understand the concepts and theories acquired in accounting
exercise critical thinking skills when dealing with ambiguous and incomplete information
identify and obtain relevant information for decision making and providing advice to stakeholders from a variety of backgrounds
utilise discipline-specific technologies to analyse complex problems in a variety of contexts
communicate clear, coherent and independent knowledge and ideas to a variety of stakeholders, addressing a diverse range of business/commerce problems
develop the capacity to exercise initiative and professional judgement in an ethically and socially responsible manner.
Bachelor of Acting and Performance
Bachelor of Biomedical Science
Bachelor of Building and Construction Management
Bachelor of Business (Human Resource Management)
Bachelor of Business (Marketing)
Bachelor of Games and Interactive Design
Bachelor of Information Technology
This course has a unique status as the only postgraduate architecture program in Canberra – one of the world's most internationally recognised and fascinating model design cities. This professionally accredited two-year course focuses on the contemporary issues informing urban architecture and promotes the processes of urbanisation in architectural research.
Accredited under a process administered by the Architects Accreditation Council of Australia, the course will arm you with the professional and intellectual knowledge and skills needed to practice architecture nationally and internationally. You will even fine-tune your expertise in related careers, such as urban design and heritage, and can choose to pursue additional studies leading to a PhD in a range of topics, including architectural history, urban planning or digital architecture.
Study a Master of Architecture at UC and you will:
understand analytical and theoretical approaches to site, context, program and technologies
propose formal, spatial and programmatic resolutions for major urban scale projects
demonstrate an understanding of the complex and challenging social, ethical, environmental, political and regulatory contexts within which architectural practice is carried out
display an advanced ability to respond to and develop a client brief, scope of work and detailed design proposals up to the start of construction
debate the importance of the interconnections of architecture with its cultural, theoretical, technical and historical contexts.
Master of Information Technology and Systems
Master of Professional Accounting
University of Canberra International Foundation Program
The University of Canberra International Foundation Studies Program is designed to prepare students for university level of study in the areas of English, Mathematics, Technology, Arts/ Humanities and Society/ Legal Studies. This non-award course is offered at the University of Canberra, Bruce campus.
The International Foundation Studies is a one year pathway program designed to prepare students for university study, both academically and socially, by offering courses that provide an introduction to the knowledge and skills needed for Australian tertiary education.
Completion of the International Foundation Studies program guarantees direct entry into the first year of a University of Canberra undergraduate degree*.
*course exception – Bachelor of Midwifery.
Diplomas
UC College offers diplomas that enable direct entry into a relevant University of Canberra degree.  In most cases, if they are completed successfully you can enter straight into 2nd year of the program.
International diplomas take either 2 terms (8 months) or 3 terms (12 months) of full-time study to complete and are all registered as Higher Education Diplomas.
Diploma of Business
Diploma of Communication
Diploma of Design
Diploma of Health
Diploma of Information Technology
Diploma of Network and Software Engineering
Diploma of Science
To get in touch with our expert team, simply leave your details below and we'll call you for a FREE consultation.