Authorised Representative of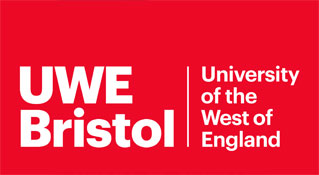 Gold Rating (TEF)
Teaching Excellence Framework
University of the West of England (UWE Bristol)
UWE (University of West England) Bristol is part of the University Alliance university. UWE offers more than 600 courses at undergraduate, postgraduate, professional level. UWE offer a broad range of subjects in the disciplinary of arts, creative industries, health, science, business, law, environment and technology. UWE are well known for their quality of teaching, and for our student experience (satisfaction). UWE built close links with industry such as CERN, Rolls Royce, NHS, Aardman Animation, BBC and many more to help develop the right content for the courses and allow students exposure to diverse professional opportunities.

The name of Bristol attracts students and also employers. Bristol is 1 of the UK's most diverse and desirable cities to study and live in. It's also a city of opportunity for graduates as Bristol is an industrial and tourism based city. Graduates have many opportunities to network, and seek employability opportunities here.

UWE has 3 campuses in and around Bristol with 14 different departments . Art & Design disciplinary will study at the campus of Bower Ashton City Campus; Business, Law, Engineering, Science and Media subjects will study at the North Entrance of UWE Bristol, Frenchay Campus. And Health care subjects will be at Glenside Campus.
Art & Design
Architecture
Graphic Design
Interior Design
Product Design
Product Design Technology
Drawing and Print
Fine Art
Illustration
Curating
Film & Animation
Film Making & Studies
Animation
Photography
Screen Business
Documentary & Screenwriting
Screen Production
Virtual Reality
Wildlife Filmmaking
Communication
Advertising
Journalism
Public Relations
Media Communications
Media and Cultural Production
Media Culture and Communication
Media and Journalism
Media Production
Business & Law
Accounting and Management
Events Management
Human Resource Management
Business and Law
Economics
Marketing
Sports Business
Entrepreneurship
Financial Technology (FinTech)
MBA
Risk Management and Insurance
Criminology and Law
Commercial Law
Law and Sustainable Development
Banking and Finance Law
Trade and Economic Law
Health & Applied Science
Diagnostic Radiography
Optometry
Paramedic Science
Radiotherapy and Oncology
Occupational Therapy
Physiotherapy
Sport Rehabilitation
Medical Ultrasound
Nuclear Medicine
Study Indicators
Tuition Fees:
$$$

$$
Living Cost:
$$$$

$
Subject Rankings
Guardian Rankings 2022
#4 Film production & photography
#5 Philosophy
#11 Architecture
#12 Building and town and country planning
#13 Psychology
#15 Mathematics
#15 Education
#20 Mechanical Engineering
#25 Health professions
#27 Design & crafts
#29 Sociology
#31 Earth & marine sciences
#33 Geography & environmental studies
#33 Business, management & marketing
#36 Electronic & electrical Engineering
#39 Economics
#40 Politics
#41 Criminology
#42 Civl Engineering
#43 Biosciences
#44 Media & film studies
#49 Computer science & information systems
Tips To Study Abroad
Things you should understand for studying abroad!
Tip: 1
Choose the University that Suits You Best
Tip: 2
Rankings Are Not the Most Important Factor
Tip: 3
Choose the Course You Are Truly Interested In
Tip: 4
University Facilities Are Important
Tip: 5
Things to Be Aware Of (Part 1)
Tip: 6
Things to Be Aware Of (Part 2)
Tip: 7
Message for Undergraduate Seekers
Tip: 8
Message for Master Students
Tip: 9
About Study in Australia
AECC Free Consultation Services

Destination Guide
Where to go?

University Recommendation
Which university suits me?

Courses & Programmes
What should I study?

Application & Admission
How to apply to the university?

Student Visa Application
How to secure my student visa?

Insurance
Get protected while studying abroad.

Student Accommodation
Where to stay?
Explore UWE Bristol Scholarships
To get in touch with our expert team, simply leave your details below and we'll call you for a FREE consultation.