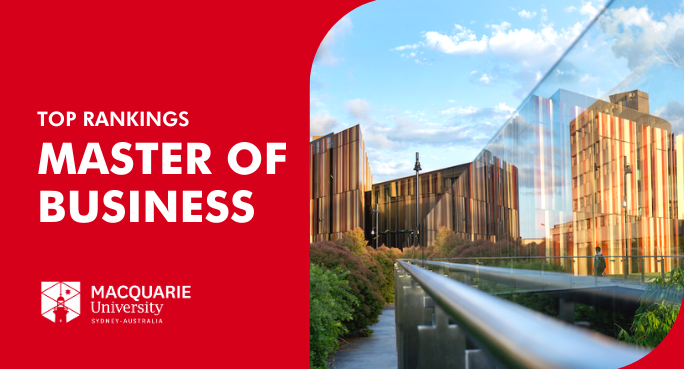 [:en]Macquarie Business School strengthens status in the QS Program Rankings. The Global MBA QS World University Rankings is based on five key indicators:
Employability
Return on investment
Alumni outcomes
Thought leadership
Diversity
By taking a cross-disciplinary approach to research and education, Macquarie Business School works towards rethinking, reimagining and rewriting the rules of business to produce profitable and sustainable results. Macquarie Business School's Master of Business Administration ( MBA ) has ranked 95th worldwide in the 2021 Global MBA QS World University Rankings.

This degree is designed to extend your knowledge, skills and experience through a practical curriculum that bridges the gap between theory and real-world application. This program is suitable for experienced professionals who have been identified as possessing higher management and leadership potential. In addition to this, three postgraduate courses from Macquarie Business School have also been ranked in the top 50 globally 



Recognized as the banking and finance industry's premier graduate degree, classes are delivered by industry practitioners, each an expert in their own field. Our graduates have gone on to senior positions in investment management, venture capital and risk management firms both within Australia and overseas.

 



Designed for professionals who wish to update their business knowledge and skills. graduates can expect career opportunities in diverse industries including corporate governance risk officer, financial crime analyst, finance manager and general manager.

 



Offered by Macquarie Business School, this course will provide you with deep experiential learning within contemporary business settings. This program is designed for recent graduates looking to build up their skills for a career in business management or management consultancy.
Interested already? (Duh, who won't right?) Contact us right now to get more info!
[:]