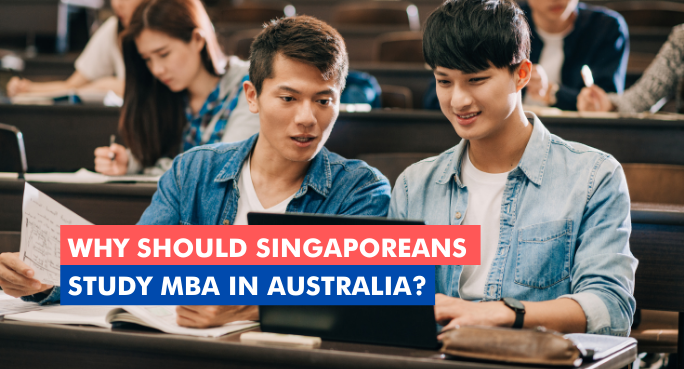 Why Should Singaporeans Study MBA in Australia
4 minutes reading time
(782 words)
[:en]Thinking of pursuing your MBA in Australia? If yes, CONGRATULATIONS. You've made a great choice. 
Australia is home to some of its reputed B-schools in the world. According to QS World University Rankings: Global MBA Rankings 2020 Australian MBA graduates have the second-highest average annual salary worldwide. If you're someone who is looking for a fulfilling career in management, then Australia is the right destination for you. 
The country is considered as one of the most sought after study destinations in the world, and your ambition to pursue an MBA degree in Australia will benefit your future in multiple ways!
 
Here's why you should study an MBA in Australia. 
Australia is popularly considered to be one amongst the top 3 most liveable countries in the world, owing to its excellent education system, high standard of living, natural beauty and vibrant city life.
Graduates from Australian universities are of high demand due to the country's impressive education system. As an international student, you are protected under Australian law through the Education Services for Overseas Students (ESOS) Act and national regulatory agencies such as the Tertiary Education Quality and Standards Agency (TEQSA).
The Australian Qualification Framework (AQF) supports countries around the world to recognise your qualification and issue the comparable qualifications for local use.
After completing your MBA at any Australian university, you may be eligible to apply for a two-year post-study work arrangement in Australia.
Here's an additional credit! As an international student, you can work up to 40 hours a fortnight while studying in Australia. 
 
Eligibility:
In general, a three-year Bachelor's degree is enough to make one eligible for an MBA in Australia. Moreover, some business schools in Australia also demand work experience.
Work experience is one of the most essential prerequisites for admission into any Australian business school. Some business schools demand work experience of 2-5 years for admission to their management courses. Of course, the experience expectations depend on the course one wants to pursue.
 
Is there a right time to do an MBA?
OF COURSE NO LAH! Never take age as a factor when planning to consider the best time to undertake an MBA in Australia. 
Many professionals specifically opt to study an MBA in various stages of their careers, particularly after they have gained their desired amount of industry experience.
If you have just completed your graduate degree then you can equally benefit from undertaking the MBA to fast-track your career.
Below mentioned are a few factors you might want to consider:
Would you have enough time to devote to doing an MBA at this stage in your life?

What is the reason for you to do an MBA? Generally, those who are looking to attain promotion from a junior position might be looking to study an MBA at a different time than someone who is looking to use the MBA as a platform to change your career.

Do you have a specific career idea after you complete your MBA?

Do you consider studying full-time or part-time?
 
Take your time to research the best Universities in Australia for MBA
Just like you research for any other course as an aspirant, you need to do your research for the universities offering MBA courses in Australia. The complete process of applying to Australia takes around 10-12 months. The process generally starts in the month of February. So, it's better to start researching for universities from April-May of the previous year.
 
Best universities according to QS Global MBA Rankings in Australia are
 
General MBA versus MBA specialisation in Australia
Do you wish to pursue a general MBA or any particular specialization?
Even though all MBA courses will provide you with transferable skills that can be applied across various industries, an MBA with a specific specialisation offers you with more in-depth knowledge in your specialised area of expertise.
You also have the option of completing a double specialisation course. This is an advantage where you can graduate with two specialisations, without having to complete any extra subjects. If you're focused on one particular area, you will graduate with a unique skill set that could help you stand out.
On another note, the general MBA gives you the flexibility to tailor your MBA to include subjects.
Some of the specializations include:
Women in Leadership

Tourism and Hospitality Leadership

Innovation and Entrepreneurship

Digital Management: 

International Business

Sports Management
Want to know more about the Universities in Australia, and finding a course of your preference? Contact us and connect with our AECC Global experts for guidance today! [:]
---
Related Posts
By accepting you will be accessing a service provided by a third-party external to https://www.aeccglobal.sg/