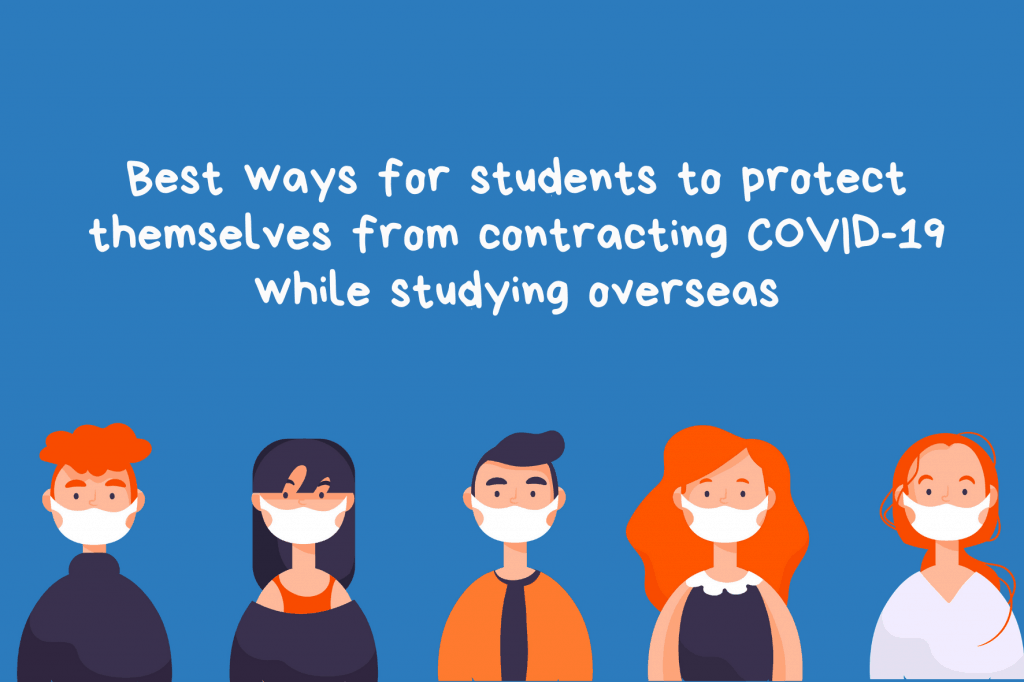 Best ways for students to protect themselves from contracting COVID-19 while studying overseas
4 minutes reading time
(858 words)
[:en]The current global scenario with the unfortunate CoVid-19 outbreak has alarmed a number of people worldwide and has hindered the regular life of International students, on a large scale.

The impact of this pandemic urges International students to take additional measures while studying overseas, for their safety and welfare. It is also very important for them to seek support wherever required at this point, to keep worries about the future at bay.

Reports about the situation are a part of the daily news cycle. As for students, especially those studying abroad, it is paramount to stay informed.

Here's what you need to know about the situation and how you can protect yourself when you are studying overseas.

Maintain social distancing
Many of the universities around the world are encouraging students to stay home. Classes have been cancelled and they are shifting their focus into virtual classrooms.

Universities like Harvard have asked students to remain on campus due to extenuating circumstances.

The cause for these changes is to reduce the need to gather in large groups and spend prolonged time in close proximity, in spaces such as classrooms, dining halls, and residential buildings.

Appropriate social distance is staying three to six feet apart from each other. Try to limit your interactions in public by not going out to dine, finding an alternative way to workout instead of going to the gym, and using services such as FaceTime and WhatsApp to keep in touch with your friends.

Stay updated, keep informed!
In today's digital age, no matter what country you are from, you will be able to find the appropriate information and updates to protect yourself from the virus.

As students, do pay attention to your specific destination country's official health information, sign up for news alerts on your devices, and download relevant apps.

For instance, if you are in the US, the Centers for Disease Control and Prevention (C.D.C.) and your local state health department update their sites daily.

Other country students can consult the local embassy for reputable news sources and alerts.

But, be wary of the sites where you get your information from and make sure it is legitimate. Read the information provided on the C.D.C or the World Health Organisation website and keep yourself updated.

Learn from the comfort of your couch
If you are part of any study abroad program or student exchange, keep an eye out on your email and texts. Make sure you are signed up to receive the alerts from your university.

Some classes and programs might get cancelled entirely due to CoVID-19, but at times like this, technology may help students around the world continue their studies.

Online learning options are one of the best ways to limit students' exposure to affected areas. Platforms, like Google Hangouts, are making their platforms cost-free for the students.

Self-Isolation and Quarantine
As an international student studying abroad, you might need to self- quarantine or isolate yourself. Self-Quarantining basically means restricting your movements to help limit the spread of communicable diseases.

You might need to self-isolate yourself if you have been travelling in the last 6 months. You can do this by staying indoors and avoiding other people. As scary as this may seem, it is important that you try and restrict your movements until things clear up.

Think about it this way. You can use this time to be productive too!

Try your hand at creative writing and try writing a blog or poetry. After all, great works of literature, including some Shakespeare stories, were written in times of lockdown from plagues. It can be one of the ways to keep yourself entertained at this moment.

If creative writing doesn't tickle your fancy you could always use this self- quarantine time to learn new skills like baking, sewing, pottery, etc. Nowadays there are so many online classes available and you can expand your skillset from the comfort of your home.

Practice Safe hygiene
It is important that you follow proper hygiene processes for your own safety and the safety of others.

Here are 7 ways by which you can protect yourself during this period:
Wash your hands frequently.
Avoid touching your eyes, nose, and mouth
Cover your cough using the bend of your elbow or use a tissue
Avoid crowded places and close contact with anyone that has fever or cough
Stay at home if you are unwell
If you have a fever, cough or difficulty in breathing seek medical advice early.
Get information from trusted sources.
Oh! also don't forget to sanitize your home every day and if possible don't hoard resources that could otherwise be used by people who are in dire need of them.

We understand how difficult this period can be to push through. Also, staying at home for extended periods of time can be pretty challenging.

Being positive and hopeful about the fact that things will return to normalcy, is important during this period. Remember, there is no need to panic. it's all going to get better with time.

For now, it's important for you to take care of yourself and those around you. We will get through this.[:]
---
Related Posts
By accepting you will be accessing a service provided by a third-party external to https://www.aeccglobal.sg/